Damn it. We've just lost another big name in radio...
by Frank Avis | March 17, 2020 | 2020s
We've just lost another big name in radio with the death of Grant Goldman, aged 69.
Damn it. We've just lost another big name in radio with the death of Grant Goldman, aged 69. He was the ultimate survivor, at home in virtually any format. I would have killed to have that voice. Goldy started out at 2TM, in his home town Tamworth, and went on to work all over the landscape... including 6PR, 2UE, 2GB, 2WS, 3UZ, 2SM and 2 DAY FM. One of the sneakiest questions you can get at your local trivia quiz night is, "Who was the compere of the first edition of the TV classic COUNTDOWN?" Everybody, including your reporter, answers "Molly Meldrum". Sorry... the original compere was the one and only Grant Goldman. I actually worked with him at 2DAY where he introduced me into the field of radio news lectures, hiring me to teach his students at the Grant Goldman radio school. I used that platform to go on to do the radio news lectures at AFTRS. So I owe you one Goldy. Sorry to hear that you've gone, mate. Wonderful career.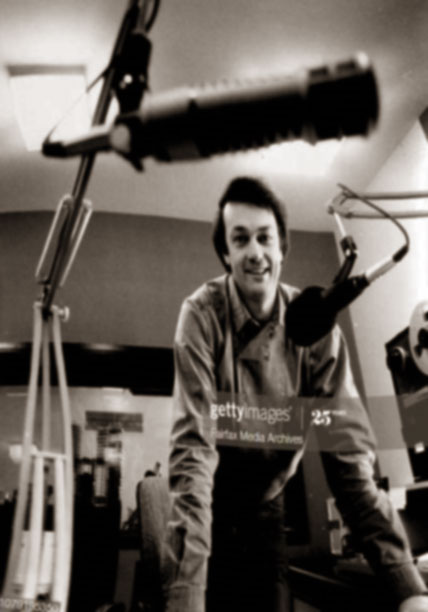 Here we go again with our annual "race to the money" -- otherwise known as the ratings -- and I don't see any major changes. GB stays in the lead overall, heading ABC, WS FM, SMOOTH and KIIS. Checking our "oldies but goodies" -- CH dipped under 4% but UE, now with a music format, is apparently not being surveyed(?).
This is classically Australian. A week or so after being savaged by bushfires the same areas are now being deluged with heavy rain. Wouldn't you know it! There is massive rainfall in Queensland's south-east in particular, and I keep hoping a lot of that excess water is finding its way west down into the Darling Inland River system. The other thing I was thinking on was the situation where we had hundreds of families hit by the bushfires, left with homes destroyed or badly damaged, forced to take refuge with family or friends while they reviewed their lives. Many probably had to drive hundreds of kilometres to find somewhere to stay. Now if this were a catastrophe in a neighbouring country, say Indonesia, where we had hundreds/thousands of people without housing, food and water, Australia would immediately spring into action and send in highly trained elite squads to support them. That didn't seem to happen here in Australia, post bushfires. This is probably a bit naive or simplistic but if we had, say 100 people left with virtually nothing in a town, why couldn't we send in the same special teams to provide immediate temporary relief? They'd establish a tent area within hours providing people with accommodation, food, water and essentials such as portaloos. Ok, it's basic living but Australians on holidays do this all the time. The people are still in the local area, with their neighbours, and are just a short walk away from their damaged home and available for cleaning up, meeting insurance assessors and builders etc, etc. The big plus is the community is still there together, able to work together, for the future. I see that there's a move this week to bring demountable housing down to one fire-ravaged town so that businesses can set up temporary operations. I'm suggesting this as an excellent medium-term solution for the whole community.
(Wow! As we went to press I noticed a report that the NSW Government is moving demountables into some of the fire-ravaged towns so all residents can stay in the area...)
I recently sent a letter to THE AUSTRALIAN which read: "Dear Sir, I was saddened and ashamed recently to see Australians jeering and even threatening our Prime Minister on a visit to the bushfire front. Now, as I write this, we have thousands of climate-change activists blocking the CBD, calling for ScoMo to resign. This is really bizarre. We are a country of drought and fire. The first recorded 'severe drought' goes back to 1798 and they have followed regularly since then, including the GREAT DROUGHTS of 1895-1903, 1911-1916 and 1958-1968. Bushfires follow the same pattern. They are burning now and they will be burning forever. This has nothing to do with political leadership. Scott Morrison is a Prime Minister: he is not a God. It's a tough country the one we love so much. Remember what a 19-year old, homesick Dorothea Mackellar wrote so many years ago... (an edited version to give you just the highlights)
"I love a sunburnt country, a land of sweeping plains... of droughts and flooding rains... her beauty and her terror..."
As a matter of record I wrote to one of the London Dailies a while back as follows: "Dear Sir, Following the marriage of Harry to his 'Princess' Meghan I made the prediction that she would destroy the Royal family within 18 months. She is currently running slightly behind schedule".
Let me apologise for yet another observation about the state of domestic soccer down under. As usual, I preface this with my disclaimer, in that I support Sydney FC, Man U and Leeds U.I am a fanatic in following the Socceroos and the Matildas, and will be absolutely beside myself later this year with our Olyroos having won their way into the Tokyo Olympics. But I'm supposed to be an impartial researcher and the story with soccer here is overwhelming. I started following kids' soccer back in the 70's and people told me the same thing... "everybody knows," they claimed, "that with all these kids playing soccer it'll soon take over as our no. 1 branch of football." This was absolute... no argument. So I kept waiting... through the '70s, '80s, '90s... into the 2000s. Nothing. So I wrote a little piece in the Sydney press suggesting that all the evidence showed soccer was still a minor spectator sport and would remain so. Boy... did I take a hammering. They were all over me. It was coming... just you wait till the A League gets going... "Poor old Frank," said one critic, "He can't see what's dead in front of him." So here we are in 2020 and the evidence is even worse than I'd imagined. The crowd figures are really poor --nothing new there -- but the TV ratings are astonishingly bad. 5 years ago the A LEAGUE was drawing 161,000 views on free-to-air with another 81,000 on Fox Sports. Today the free-to-air following is down to 50,000 while Fox has declined to 30,000. The A League is being out-rated by the AFL and NRL womens matches. It's even losing to Netball. A League clubs are losing around $15 million a season. How long can they keep doing this? I've always been amazed at how much exposure the game gets considering the low crowds and ordinary TV following. We have to congratulate Soccer administrators for their ability to attract lots of big money, including the Hyundai sponsorship and the $56 million deal with Foxtel. But how long can they keep doing it?
Finally, it's my sad duty to record the death of the once iconic brand, Holden, which will cease to exist by the end of the year. Prime Minister Ben Chifley launched the first Holden back in 1948, remarking to the assembled crowd, "she's a beauty." Sorry Prime Minister... she's now just a memory.
Related Posts
by Frank Avis | July 11, 2022
Radio ratings, Mike Walsh, Federal Election 2022, TV crime dramas and what happened to the drop kick?
---
by Frank Avis | May 13, 2022
Federal election, 2MG, Russia and China...
---
by Frank Avis | April 1, 2022
Alan Jones, Cameron Williams, Geoff Harvey, Ukraine, COVID, sport and television.