The Beginning
by Frank Avis | August 19, 2007 | 1950s
I wasn't originally trained for radio. I actually trained as an actor in Sydney, attending the Doris Fitton Independent Theatre on Sydney's northside. If I remember correctly our group was trained by visiting British actor John Alden. It's a long time ago but I'm pretty sure one of my fellow classmates was actress Elizabeth Waterhouse. I think she went on to star in the Sydney season of "The Diary of Anne Frank".
I had earlier done some work in the chorus of the Campsie Operatic Society (I remember we had a reasonably professional staging of "No No Nanette" at the Ashfield Town Hall to packed houses). They were the days when people went out to a lot of live shows, both professional and amateur. Sydney's "Little Theatre" was particularly exciting with thousands seeing productions like the Phillip Street Theatre's "Around the Loop". I still remember Gordon Chater delivering lines like "alacka and alassa... my canal's been pinched by Nasser" etc etc.
Anyway, I was always attracted to this area and desperately wanted to be an actor, particularly after seeing the Stratford season of Anthony Quayle, Barbara Jefford, Keith Michell and Leo McKern doing Shakespeare classics like "Othello".
So, after the Independent training I signed up with William Lynch and his Savoy Players who performed at, was it the old 2UW Radiotorium in Sydney? I had a part in one of the plays in a Grand Guinol series during which I was forced to make a career change. Let me explain while apologising for inflicting some medical history on you. For some years I had been suffering a strange malaise where my eyesight would suddenly fragment, I'd suffer memory loss and an inability for my voice to say what my brain was telling it to. For a teenager it was overwhelming. I thought I was going to die. This condition persisted until I was in my 30's when it slowly disappeared. I spent years terrified until I saw a doctor in Hobart in the 60's and he listened to the symptoms and pronounced "Oh, you've just got a severe form of migraine... Lots of people have it... It might go away, if not you'll just have to put up with the attacks". I wish I'd known it was ordinary old migraine back in the mid-50's.
Anyway, to cut to the chase, we were in the middle of a performance one Wednesday night when it struck. I somehow bluffed my way through but it was clear to me that night that it was the end of any acting plans. You can't suffer one of those attacks in the middle of King Lear. Now the Savoy Players also featured a couple of up and coming members called Allan Kitson and Chris Beard.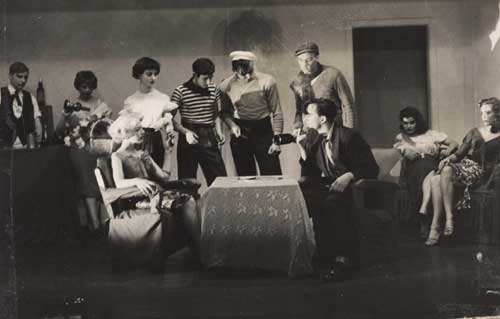 I am in the striped shirt and Chris Beard is on the far left of the picture
Just as I was revising my career plans, Mr Lynch announced that Chris Beard had just passed the audition at Macquarie Broadcasting to head off to 2MG, Mudgee, as a trainee announcer. This was quite a coup for the group and there was much celebrating. Anyway, I happened to be in the office one lunchtime a few days later and a very forlorn Chris went in to see Mr Lynch to tell him that his family refused to allow him to leave Sydney and that he had to tell Macquarie he couldn't take the job afterall. I saw this as an amazing act of fate and sneakily immediately rang 2GB to ask about the possibility of any trainee work in radio which might be on offer. The network head responded that there was an opening which amazingly had just happened with a promising young man unable to take up an offer in the country. "Could I come down and do an audition?" I was there within the hour and had the job an hour later, right on my 17th birthday in 1954. The career change I had been forced to consider materialised thanks to the "fickle finger of fate".
Chris Beard went on to write the Channel 7 Revue Series in the early 60's (with Allan) and eventually on to Canada and "Laugh In" fame while I caught the train to Mudgee. What would have happened, I wonder, had Chris taken the job in radio?
Let me just observe in passing that my early years in the trade were probably "the golden age of radio". Jack Davey was the King and you'd have to wait 9 months to get a ticket to see him record one of his shows at the 2GB centre in Phillip Street. People also queued up to get a ticket to see the actors do the Sunday night Caltex radio theatre live in the famous auditorium. This was the era of Davey, Mrs 'Obbs, Yes What, The Search for the Golden Boomerang, Tony Withers, Bob Dyer and John Harper ('arper 'ere). When I think about it, I straddled the two eras--the golden age which preceded the arrival of TV and then the next 40 years which saw radio change and I fear degenerate dramatically.
So there I was, an incredibly innocent 17 year old trying to convince my Aunty to let me enter radio. She didn't like it, but something swayed her--it might have been my birthday--and she said "You'll never be happy until you try this... So you may as well do it.".
In the next episode I board the train to Mudgee and 2MG. Welcome to radio in the 50's.
Related Posts
---
---
by Frank Avis | November 1, 2007
I was sitting down with three of my children at Manly today, sipping Gloria Jeans as the gentle ocean breezes wafted in off the water (It's not easy but somebody has to do it) and they were all throwing out hints about the lack of a new episode. Suitably chastened, I immediately raced to the computer on my return in the evening.