Frank Avis Continues: 3DB and beyond
by Frank Avis | September 30, 2008 | 1970s
I moved back into the city to 3DB which was sited in the Herald Sun Headquarters.
Talk about a massive rabbit warren. I was told to go up to the second floor for a meeting in an office and failed in two attempts to find it. In the end they had to send somebody down to escort me there. Embarrasssing. I'm remembering Brendan Sheedy (The Manager), Paul Thompson (PD) along with Geoff McComas, David Shoreland (ex XY), Laurence Costin (absolutely lovely bloke), my mate Col Denovan (XY), another great mate Ian Nicholls, Wally Ryan, Alex Shabs (ex AK), Chris Lewis and many others who will remind me that my memory has crashed. Sorry.
Anyway the pervading atmosphere was bad. DB had been a giant in the industry but was now declining.
In fact, I hope he won't mind me saying this, but Col rang me when he found out that I could be moving to warn me to reconsider. So, it was a pretty gloomy outlook. Still, there was a job to do and we all got on with it. I have to tell you the most wonderful story about the first few days. I walked into the newsroom, had a fossick around and found a bank of printers along the rear wall. There must have been four to six printers just sitting there. I kept checking them every hour or so and couldn't find any sign of activity. I waited until late in the day and eventually asked somebody what they were or whether they worked. Whoever it was didn't have a lot of information... He thought they worked occasionally.
Anyway, I went another 48 hours looking at these printers and finally could no longer contain myself. So I asked Laurence what was going on and he said that he thought the previous News Director had got sick of reading through all the stuff and had simply turned them off. Laurie and I pulled the printers out and sure enough the plug had been pulled out. We stuck it back in and they all went berserk. I sat there dumbfounded as I watched 3DB NEWS get a copy of every story filed to the Herald Sun network from around the world. I sat there all afternoon, bewitched. It was like going to heaven. We had the hard news, the backgrounders, and—believe it or not—even the phone numbers of people involved.
We never turned the printers off again, not as long I was in the ND's chair anyway.
Then, a week later I happened to be patrolling the corridors of the Herald Sun upstairs—probably trying to find the office of somebody important I was supposed to see—when I walked through what appeared to be some sort of central receiving agency for newswires.
As I walked through some lady looked in my direction and said, "It's about time you people came back to get your stuff." I looked bewildered and she said, "Aren't you the new bloke from DB?" "Yes," I agreed, "I am." "Well," she said, "there's all your copies... No one's picked 'em up for about 18 months."
There in front of me were several huge spikes, marked DB, full of stories going back over a year. Every story filed by local reporters was copied for DB and left on the spike. This was astounding... Certainly the most formidable source of news available to a radio station I have ever seen or heard about. I hope you don't mind a bit of boasting here, but let me tell you for 12 to 18 months DB was the hottest source of radio news on the planet. We broke so many stories you wouldn't believe it. I know the station was in serious trouble overall but for a wonderful year our news team was up there and running. And we loved it. We kept telling each other what stories we'd broken and how far in front we were. These were difficult times but for the newsroom we were humming and really proud of the stuff we were doing. I reveled in the standard of our product. And I could tell our peers were paying attention. When you get two job offers from Sydney while you're there you know something is going right.
Speaking of Sydney, I found myself facing a dilemma. Every morning around 8:15 to 8:30 one of the printers fired up from the Sydney office with a stack of stories which would be leading the afternoon papers in Sydney that day. We had a sister station relationship with the mighty 2UE but I really didn't know what to do... Did they already have these stories and if I went to a lot of trouble and started giving them a one hour lead over their rivals would they simply regard me as a smart arse? Remember there's a lot of jealousy in our trade. Anyway, one morning I bit the bullet when a really big story came in on the Sydney wires around 8:45. I rang the UE desk and can't remember who was there—Vincent Smith, Greg Milne, not sure—but I asked if they were running the story of a well known pop star going to jail over a serious offence. They hadn't heard about it... Indeed they almost laughed. So I read them the story that would be front page in the afternoon papers in around two hours. They were stunned. But the evidence I'd given them was overwhelming. The reporter had just a few minutes to make a decision on whether to accept what I'd told them or reject it. He went with it. It was a big story and UE broke it more than an hour before their opposition. From that day on, as long as I was in the DB news chair, we rang the UE desk around 8:45 with any hot stories coming in. I don't know whether they really liked it—Sydney doesn't like getting favours from Melbourne—but the arrangement continued and was very effective.
Another tale—detailing just how much information we had—concerns the sudden death of the great Bing Crosby who collapsed on the golf course (that's probably what'll happen to me). Anyway Ivor Davis ran this wonderful story with tributes from far and wide including a lovely piece from Dorothy Lamour, the female lead – remember – in those great old Hollywood Road movies with Bob Hope.
And there in the middle of the script, in brackets, was a Los Angeles phone number. I knew it wasn't Ivor's number and I kept thinking it's in the middle of the Dorothy Lamour tribute... Surely it couldn't be, could it?
I went into the booth rang the number and the voice at the other end said, "Hello, Dorothy Lamour."
I was stunned, quickly explained I was ringing from a radio station in Sydney and then waited for her to hang up in my ear. No way. She laughed softly and then spent 15 minutes telling me about Bing and Bob and how she loved the road series the three of them did in the 1940's and 1950's.
We did this sort of stuff all the time... The resources were unbelievable.
We should have done fair dinkum "news and info" but things were difficult for Brendan and I could never talk him into giving it a fly. Or rather, he probably couldn't talk the Herald Sun heavies into giving it a go. I'm positive it would have worked. Take my word for it. And allow me to go into some detail, including a NEWS AND INFORMATION CLOCK that I drew up for DB and later 2GB back in the mid-70's.
I warn all readers the following information is probably for the consumption of journos only. It'll just bore everyone else. So I'll give you a clear warning when it's over and you can then resume checking out the gossip, having given the technical stuff the big flick.
It was obvious from the mid-70's that we were heading into specialist radio, particularly with the possibility of FM ripping into the music arena over the next decade. I'd listened to a bit of US news and info and was totally unimpressed. It was heavily national/international/political, so that I guess it could be easily formatted nationally. Indeed, quite a few of the formats were nationally-syndicated with 1 minute breaks or "local news". Maybe it worked in the US but I can tell you then and now, forget it in Australia. If you're in Sydney at 7:30 in the morning and the Harbour Bridge is closed for an hour, it is THE STORY of the day. You can forget the latest Canberra surveys or US forays into Deep Mongolia. When Sydney's main artery stops, Sydney stops and the audience wants to know about it, big time. But it's not a story in Melbourne, Brisbane or Perth. Whooooo cares!
My concept for news and information in Melbourne and Sydney was LOCAL... Underlined... So it was very labour intensive. And you couldn't on-sell it around the nation. End of Frank's dream.
But it would have been good radio. Still could be.
Basically, you're looking at my NEWS AND INFO format 5:30/6:00 AM to 9:00... Switching to NewsTalk Radio till noon... Resuming NEWS AND INFO 12:00 to 2:00... Back to NewsTalk until 4:00 and running NEWS AND INFO 4:00 to 6:00/7:00 PM.
And there's no padding. The stories run as long as they run. The infamous "voicer" would be banned (more on that later, when I journey to 2GB). I don't wish to be offensive but listen to the ABC's NEWSRADIO and then go in the opposite direction.
I also incorporated a lot of production aids, including thematics which meant you had to include a panel op or an extremely gifted announcer/panel op to keep the show running.
The concept was to move it quickly and to keep the information flowing.
I won't use the "clock concept" here, but rather simplify it into a half-hour block format which just keeps repeating:
00:00 Station ID/news thematic
00:15 Situationer*
00:30 News, sports and weather
05:00 90 second commercial break and community announcement
07:00 The Big Story/The Big Interview
09:00 Sports wrap
10:00 Local/interstate weather
11:00 Situationer*
12:00 Business Update
13:00 90 second commercial break and community ammouncement
15:00 News briefs and city weather
17:00 All the Sport
20:00 Situationer*
20:30 90 second commercial break
22:00 Business update
23:00 Feature**
25:00 City weather, interstate and international
28:00 90 second commercial break and community announcement
30:00 Repeat the format
Notes:
*Situationer is normally the latest traffic update, but can include any major happening having an impact on the city.
**Feature. The idea was to allow room for special input, eg backgrounders on big events or high profile names. In Sydney we planned to use the feature for a special report titled "What's going up, what's coming down". The intention was to have a reporter exclusively following major building projects across the City, updating the current state of play.
Not just the huge projects but things that were happening right across the metro area. Just imagine if you were driving West along Parramatta Road and we were updating you on a building project you were just passing, letting you know when it would be finished and what it was for.
The idea was not just to keep the listener briefed on the "hard news" and the obvious information like weather and traffic, but to also sell our credibility on "what was going on" on the wider frontier.
Well, so much for News and Information programming.
Basically, I failed to win that one and things started to drift away at 3DB. When Ron Hurst rang from 2GB I was ready to make another try at the concept, thinking GB, with its Fairfax affiliations, was perfectly suited to the concept.
Ron seemed interested in pursuing the idea and so I made the move to my old home, the Harbour City. Again a lot of my mates rang me saying, "Don't do it... It's suicide," but I figured you only live once and you've got to give it a try."
I should also mention that this was the time when I was really into long distance running, an interest I'd acquired when our intake had won the 1956 National Service road race.
I'd somehow got through the Big M Marathon, after injuring my knee at cricket the day before (Col Denovan kept asking me why I'd be playing cricket the day before I was to run 42km and he never got a satisfactory reply). I was training with ultra-distance runner Tony (Run Run) Rafferty at the time and wondered out loud how far an average person would go trying to do what Tony did. He replied, "Why don't we find out," and so we both set off on his historic Melbourne to Sydney to Melbourne run. It was my fantasy to make it to Sydney, but by day three—after running 125 kilometres—my ankles admitted defeat and our team just staggered on to the border at Albury. I can still see the sign reading "301 kilometres". I think Tony actually passed me as he ran back down the Hume Highway from Sydney. I was assisted by a wonderful team, including one of the journos from the newsroom, Chris Lewis. I wonder if he remembers that week?
Enough of that stuff. Let's get back to the main game.
It's late '79 now and In the next episode we tackle 2GB—and fail.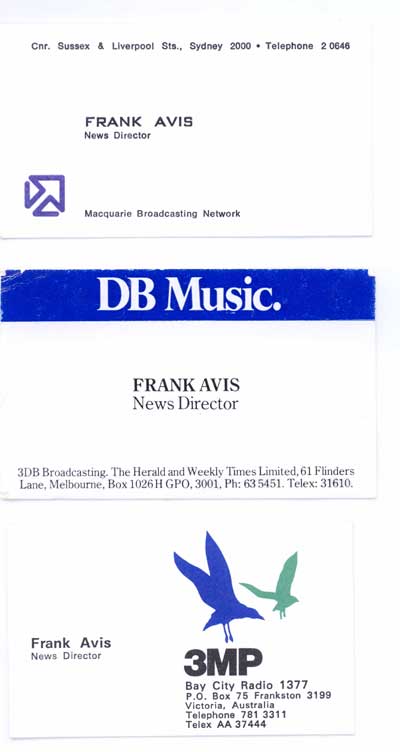 Related Posts
by Frank Avis | December 24, 2008
I finally got back to Sydney, twenty years after heading into country radio, to join 2GB as News chief.
---
---