Midwinter 2018
by Frank Avis | August 8, 2018 | 2010s
Sadly I have to report the passing of Jeff Sunderland, one of the longest serving radio presenters in our industry.
Sadly I have to report the passing of Jeff Sunderland, one of the longest serving radio presenters in our industry. Nicknamed "Jeff Thunderpants" by Yours Truly back in the 60s at 3XY, Jeff was on air for over 50 years... an incredible history in the trade. He was one of the most professional operators of the era and responsible, with Bruce Mansfield, for some of the funniest routines on radio back in the 60s. He died as he would have wanted, in the studio, having just finished his shift at 5MU.
This raises memories of Gary Meadows, another treasured name from the 60s, who died on air at the old 3DB in 1982. So my apologies to you "Thunders". My last email to you said how we had to get together one last time, possibly at a half way point, where we could have a coffee somewhere in Western Victoria. We never made it. My fault. Should have tried harder.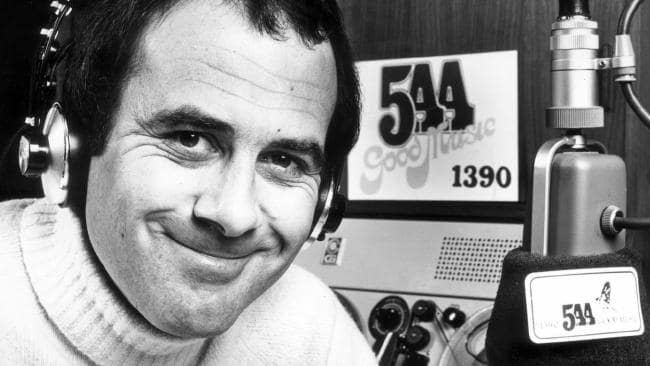 I must also report the death of one of my best mates, author and TV Programmer, Ian Woodward, who passed on recently. We met at 7HO-TVT6 in Hobart in the late 50s and were buddies almost immediately with a shared passion for cricket and our beloved Sandy Bay Football Club. So sorry we didn't get to meet in recent years mate. I owe you big time.
We're half way through the year and 2GB continues to ride the news-info jetstream, up to 14%, in the Sydney radio market with WSFM leading the FM challengers fairly convincingly, ahead of Smooth and Kiis. There's a bit of an alert out for 2DAYFM, which has slipped under 5% in the latest ratings.
One of the old stagers 2CH just keeps hanging in there, sneaking up to 4.5 but the one-time giant of the market, the former2UE which has moved from LIFESTYLE to SPORT in recent times is now in serious distress. We've already lost one icon, 2SM, from the mainstream market. Now another famous name 2UE is fighting for its life, surrendering another point to crash down to 0.8%, virtually disappearing from the Sydney radar. I'm not sure how you justify maintaining a city licence when your audience has plummeted to under 1%. You know you're in trouble when your ratings are lower than the statistical error rate. I don't know what we'll be reporting on its fate at the end of '18.
And late mail readers, just arriving in our "In" tray is word of a mega deal in our industry with Ch 9 "merging" with Fairfax media to create a $3b giant covering TV, newspaper-magazine publications and the radio assets of Macquarie Media. The fear is that we're watching the disappearance of the iconic Fairfax brand from our history.
One of the serious social/political discussions here and all over the world in the last couple of years is the disconnection between ordinary, average citizens and the pampered elite members of Western Society. These are the "educated" classes who live a protected life, insulated from the real world, the people targeted by Donald Trump in his Presidential election campaign where he called on voters to send him to Washington where they could work together to "drain the swamp". Well, we've got a bit of draining to do over here Donald, let me give you the drum. We have a section of our population who are embarrassed to be a product of Western civilisation and who are determined to rebel and rail against it. You're looking at a complex and varied bureaucratic collection including Federal Public Servants, Teachers, Uni academics, the Greens, ABC and of course a range of bizarre characters who frequent the Loony left. The great issue of concern is that so many of these showponies are tasked with educating our children from Primary all the way to the Tertiary level.
Hardly anybody it seems is being taught our nation's history. Is anyone reading our great Literature anymore... debating our great thinkers? I believe if anyone suggested starting a school day saluting the flag or singing the national anthem, vast numbers of academics would become apoplectic.
All the things we treasure... the stuff that holds us together... is now openly derided by this chattering class of malcontents. These people are desperate for the West to fail.
Greg Sheridan, often quoted in my writings, says, "the educational left is also the politically left." He notes a recent column in The Economist which argues that an Oxford-Cambridge education "disposed people to despise their own country". Historian Niall Ferguson sadly recorded the success of this left-wing stream moving through mainstream western universities... "they are ruthless about appointing like-minded people who sign up to broadly sympathetic ideological approaches".
None of this is new to our history. Through the 30s and 40s and into the Cold War, when Winston Churchill's "iron curtain" descended on millions of people in Europe, these academic fellow-travellers continued to operate like 5th Columnists, undermining the society that fed and housed them. This was particularly obvious in elite Universities of the UK and USA where these people were virtually openly hostile to the West, aiding and abetting the enemy.
Noone understands this phenomenon. It just is.
And they said poetry was dead.
I offer you this mini-masterpiece.
"Got dad's car and chauffeur,
But that's no good with half a pair.
Gee but it's lonely being alone,
May as well go home."
(Everly Bros, 1958)
Related Posts
by Frank Avis | January 6, 2020
Well, she's all over for another year and the Alan and Ray Show ended the ratings, owning Sydney's overalls...
---
by Frank Avis | December 2, 2019
Are we watching the death of a Sydney radio giant with the announcement that the experiment with Macquarie Sports on the old 2UE is over?
---
by Frank Avis | October 23, 2019
Radio, Alan Jones, Graeme Turpie and Ian Nicholls, Brexit, Richmond AFL and TV.