We lost another famous name in the industry recently
by Frank Avis | September 13, 2019 | 2010s
Loss of Malcolm T Elliott, Sydney radio market, "put a sock in it", catch up with Brendan Sheedy, Brexit, and dog washing...
We lost another famous name in the industry recently with the death of Malcolm T Elliott at the age of 73. His career is almost classically Australian radio... kicking off in the mid-'60s at 3NE Wangaratta and moving on through SR, Shepparton and UL, Warragul before trying his hand in the larger markets, 2KO and 2HD, Newcastle and 2SM, 3AK and 5AD. This includes his famous era - with a series of no. 1 Breakfast survey victories - at 2UW through the '70s. He even found time in the '80s to do a bit of academic work, with a Business Degree at the Uni of NSW. Everyone in the trade knew Malcolm T Elliott. We all mourn the loss of another link in our history.
As for the Sydney market, it's good old 2GB still setting a hot pace ahead of SMOOTH and KIIS, although there is one really interesting trend with ABC RADIO "shoving it right up" critics like yours truly, with a strong improvement to around 9 and a half points. But as we've discussed so many times there are ABC Listeners/viewers and the rest. The ABC followers stay there forever and - this is probably the most important part - are completely happy with what they get.
One little glimmer of hope emerged this survey with the old UE/now Sports cracking the 1% barrier.
GB lost half a point overall and there's a lot of talk that Alan Jones lost a few listeners with his public opinion that our Prime Minister should stick a sock down the throat of NZ leader Jacinda Ardern over her critical comments about our Climate Change policies. I'm still trying to figure out how the oh so precious NZ leader found that so offensive. So, just in case she happens to read this... here's the story Jacinda. Mr Jones was referencing one of the most famous sayings from the old days Downunder... "Put a sock in it" which basically means "shut up", "mind your own business" or "give it a rest will ya?" It's a famous Aussie saying, Jacinda. Anyone who thinks Alan Jones was actually suggesting Scott Morrison take half a dozen socks and shove 'em down your throat should apply to me immediately for urgent counselling. Oh and just to make my position clear and to run the risk of being declared a "non-person" by the UN may I join Mr Jones in issuing a public entreaty to the NZ leader to "put a sock in it". Thank you.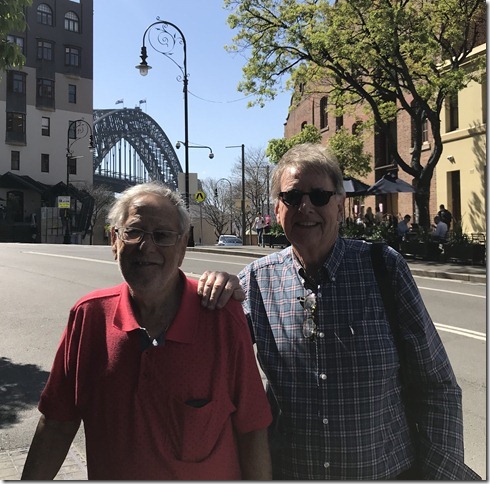 You'll see a couple of veterans in the attached pic with Your Reporter reuniting with another veteran Brendan Sheedy, for a wonderful lunch in The Rocks recently (have a look at the Bridge in the background... apparently it's quite famous).
Brendan goes back to channel 9 Melbourne in the '60s and the two of us got to know each other in the '70s at 3AK, where Brendan was 2IC to PD Rhett Walker - one of the most charismatic figures in the industry in that era. Anyway, George Chapman enticed Sheeds into moving across to 6PM Perth to takeover the PD chair. He told me a lovely story, a classic piece of radio folklore, how Martin and Watts got together into one of the most famous Partnerships in Radio, rewriting the format for Breakfast. Brendan had only just arrived when he got the bad news that his Breakfast Announcer was retiring, leaving the new PD with a hell of a dilemma. As fate would have it Brendan had been talking to a well know figure in the trade, Barry Martin, and the two arranged to have a beer together at a local watering hole that afternoon. They're talking away when the famous John K Watts arrived and immediately spotted his mate, Barry, having a drink. Brendan sat there entranced through the afternoon while the two sent each other up something awful, lampooned everyone else in sight and traded hysterical insults. Brendan got more and more excited and eventually, he said to the two of them "have you ever thought of doing this stuff for a living?" One quick call to GM George Chapman and the two were soon doing it on 6PM and making one heck of a living.
At one stage they had over 50% of the available Breakfast audience... a survey level I've only encountered once before with John Loughlin at 7H0, Hobart.
Still looking for a sign that Boris and Europe will find some area of negotiation as Britain gets closer and closer to Brexit... but I don't think they're going to do much talking. The truth is Europe would probably prefer to see the UK totally fail in its bid to go it alone. There indeed would be the ultimate punishment for its treason. Imagine how Brussels would rejoice if a battered and bruised Britain had to return, cap in hand, to beg to be allowed back in? Oh, the bureaucrats would just love that.
Finally, is this the era we live in or what? Families were out walking in a park in Rushcutters Bay recently when they viewed something quite extraordinary. An elderly dog owner was taking his pooch for a walk when nature called and the dog did what dog's do. The man then picked up the animal, carried it to a water bubbler and proceeded to wash the dog's backside in it.
Several people actually intervened and told him that this wasn't on but the dogman simply waved them away and proceeded to clean his dog's rear end. He finally made his exit, delivering a final, withering stare to the astonished onlookers.
Related Posts
by Frank Avis | January 6, 2020
Well, she's all over for another year and the Alan and Ray Show ended the ratings, owning Sydney's overalls...
---
by Frank Avis | December 2, 2019
Are we watching the death of a Sydney radio giant with the announcement that the experiment with Macquarie Sports on the old 2UE is over?
---
by Frank Avis | October 23, 2019
Radio, Alan Jones, Graeme Turpie and Ian Nicholls, Brexit, Richmond AFL and TV.