Frank Avis Returns To Sydney - Mid-80's
by Frank Avis | June 23, 2009 | 1980s
I returned to Sydney, along with Mike Jeffreys, on a Friday afternoon.We got word that we were to start on Breakfast the following Monday, which was a bit of a shock. I had to get into the newsroom to familiarise myself with the panel over the weekend.
I returned to Sydney, along with Mike Jeffreys, on a Friday afternoon.We got word that we were to start on Breakfast the following Monday, which was a bit of a shock. I had to get into the newsroom to familiarise myself with the panel over the weekend.
My obligation was news on the half-hour, plus quarter hour "special input" with anything unusual/strange into Mike's brekky programme. There was just me and my assistant.journalist. I quickly sussed-out the audience 2DAY FM was targeting - the top-end of the 25-50 market - and got my assistant to start doing half-hour business updates, basically the Dow, Australian Dollar, price of oil, etc, etc.
I didn't get a lot of positive reaction over this with some of my internal critics suggesting that if we were going to put a specialist reporter on to something it shouldn't be in finance. But I thought it was a meaningful contribution: it provided critical information for a fairly large number of listeners and even if the audience wasn't directly involved a lot would have been content to hear this sort of content, in that they would have perceived themselves as among Sydney's "movers and shakers". It's sort of like the middle aged man you see get on a morning bus, going to work, with the Financial Review tucked under his arm. He never reads it but he feels better to be perceived as a FR reader (actually at one point when 2DAY FM was going really well, I used a senior Financial Review journalist to do regular finance updates in our Breakfast news).
It's a long time ago but I'm trying to remember the cast from that era. I know George Moore was doing mornings (and very, very well - boy did he fit that adult format!) along with Tony Hartney, Keith Williams and Tim Webster. I'm also recalling Grant Goldman, George Donikian, Holgar Brockman, Terry Mabb, Michelle Aleksandrovics, Norris Smith, John Kesby, Angie Nelson and Simon Latimer.
I'll ask my large production team to see if they can include an attached piece by Harry Robinson who must have been feeling kindly disposed towards me as breakfast presenter.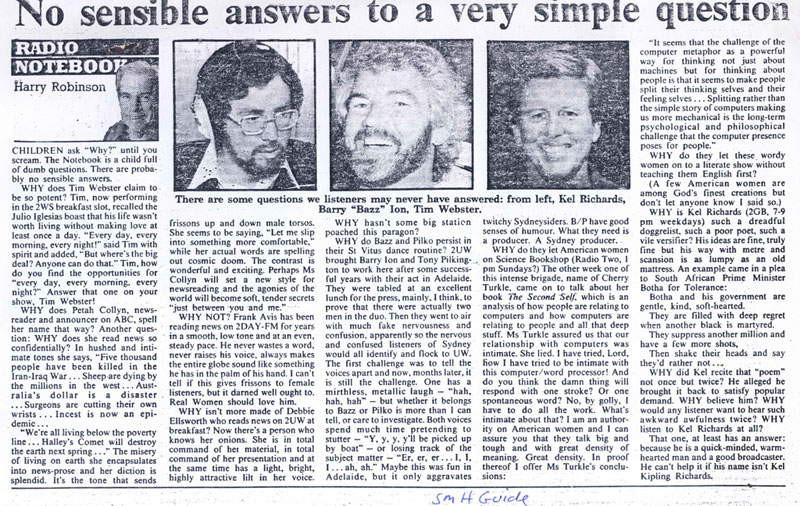 We knew that we had to get some extra bite into the overall station presentation so Cherie hired Debbie Spillane to do sports. We tried to generate a sense of humour in our presentation, especially if I had the opportunity to remind Miss Spillane of any or her sporting predictions which hadn't worked out. She had a cheeky sense of humour and the Debbie and Frank show seemed to work ok for a time.
It was during this period that I worked closely with Production specialist Peter Kukura in putting Debbie forward for an annual RAWARDS, as Best Sports Presenter (I think they're now knows as the ACRAS). We waded through tape after tape and Pete ended up putting a wonderful package together. Imagine how it felt when I was sitting at the 2DAY FM table on the night of the awards and heard the MC read out, "and the RAWARD for Best Sports presenter goes to... Debbie Spillane, 2DAY FM." Don't you love it when a plan comes together.
It was also during my second tenure at 2DAY FM that I started to concentrate on some other areas of my career: doing a one-minute history piece Monday to Thursday with George Moore and a regular Friday Travel segment. These both worked quite well. In fact Friday travel was a real surprise generating tremendous audience feedback. Of course the audience Cherie was targeting was smack bang in the middle of the same audience profile for the travel operators - upwardly mobile 25 to 45's who were extremely interested in... THEMSELVES. I remember one day Japan Airlines faxed me a release announcing a special one-off $100 fare to Tokyo, to introduce a new Sydney-Japan service. They had intended it to be released to the weekend press travel sections as well but had to ring me urgently at noon that day, 90 minutes after the feature went to air, saying they'd already filled the 450 seats available. George really did have a strong and loyal audience.
My histories with George also attracted the attention of Dick Smith's Australian Geographic magazine and I got a call one day from the Editor, asking if I'd do the History segments in their first-ever calendar.
I agreed of course and settled down with their historians at AG to work out the format.
The 1989 Australian Geographic calendar is a collector's item and I'm so proud that I assisted with that historic production.
Our in-house photographer Darleen is now being asked to provide some pictorial highlights from this magazine for the Producer of this web site, son John, to include on this page. Hopefully all has gone well and the highlights will appear before you as we speak.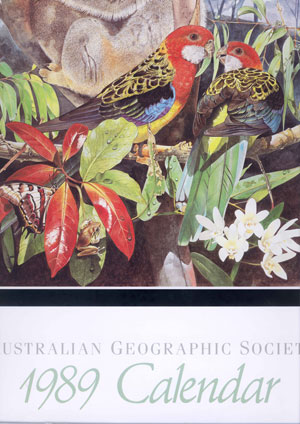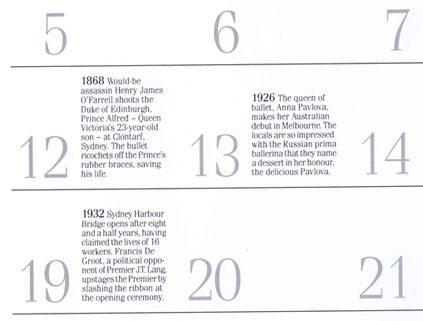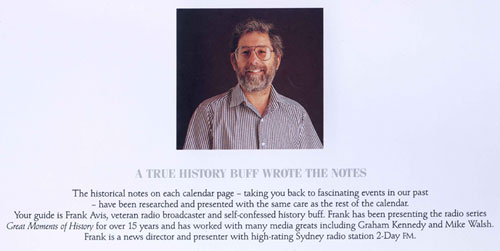 At this point of my career it became obvious that my on air work was falling away: my voice was clearly getting weaker, lacking projection and Noel and Cherie saved me having to make a tough decision about myself by calling me in and asking how I'd feel about Tim Webster coming back to 2DAY to read breakfast news. I was ecstatic. He was such a good voice and near-perfect for the station's news presentation. Plus he was a really good bloke and excellent team member.
At the same time, Debbie took time off for a baby and Cherie discovered the legendary larrikin, Tim Bailey who came in to do sport. And so we begin probably the most controversial thing in my long period as a News Director. 2DAY FM Breakfast featuring the "two Tims", Webster and Bailey.
Well, from day one Web absolutely loved Bailey. And vice versa.
And somehow the morning sports report gradually turned into an all out,no holds barred riot.
Devotees absolutely loved it,and rang in laughing deliriously. But there were those who regarded their sport as sacrosanct who protested vigorously. "How dare we laugh at sport"? Among those was Debbie Spillane who had come back doing weekend sports and was beside herself at the antics of the Two Tims.
Actually it started out innocently enough.
I'd always made a habit of collecting the famous one liners of history. Everytime I heard somebody utter something that seemed to capture the story or the era I'd grab it on tape. I had 3 reel-to-reels full of famous quotes which I carried to every station along with my three drawer filing cabinet full of information about anything and everything. Anyway one day Tim Webster was in the newsroom when I played my favorite John McEnroe outburst - you probably know the one where he screams at the umpire, "You cannot be serious... You CANNOT be serious." As he utters the second line his face has gone bright red and spit can be seen flying 3 metres out of his mouth.
It's just my all time favorite. Tim quietly asked if I could cut him a cart with this one liner on it. It was simple enough and I was happy to oblige. Imagine my surprise when in the following news a Tim Bailey report was followed by McEnroe screaming, "You cannot be serious… You cannot be serious."
I looked into the news booth and Webster was sitting totally inscrutable as if the whole thing was a complete surprise. Bailey was looking at him glaring daggers. The battle was joined. Soon both men had a repertoire of one liners which they used with gay abandon. These ranged from Rhett Butler responding to Tim Bailey's weekend league predictions with, "Frankly, Scarlett, I don't give a damn," to a range of totally unsuitable additions like Mae West saying, "Come up and see me some time," to Marlon Brando's, "I could have been a contender." Pretty soon Cherie was looking at me very strangely and Noel kept ducking into his office and shutting the door as I walked by.
Clearly they were trying to tell me something: actually I think they were trying NOT to tell my something, hoping the whole thing would just go away.
And everything would have been fine had Australia not taken part in the Commonwealth Games that year and had Tim Bailey not been working on 2DAY FM. This was not my mistake. I take no responsibility for the ebb and flow of history. This was just fate.
This was the time when the Australian male athletes decided to wear extremely revealing, tight fitting track suits. One particular track star filled his suit incredibly well. Indeed when Channel 9 showed the front on shot of him winning a gold medal there was little doubt that he was a remarkably well endowed young man.
The problem was Bailey just couldn't believe any man could be that... er... well built.
He went to air at 8 o'clock, announcing that the man in question had in fact stuffed plasticine down the front of his pants. Even the normally well controlled Mr Webster took a liking to this theory and expanded on it to some extent.
It was terribly difficult to know what to say to Bails. I sat at the news desk, I think completely stunned.
Bailey obviously knew he was on pretty thin ice with this one and it took him 15 minutes to summon up enough courage to return to the newsroom. All I remember is this face coming around the door and Bails looking at me like a naughty schoolboy asking, "Do you think I went too far?"
Too Far? He'd gone that far he was no longer in the same postcode! He smiled at me, cheekily - he was always so good at being cheeky - and I broke down into complete laughter, sliding out of the chair and falling on the ground. It took half an hour for newsroom staff to help to return to reasonable operating order. I mean what can you say?
At 8.20 a man rang me in absolute hysterics announcing that he had just lost complete control of his car on Victoria Road and crashed into a telegraph pole. The thing was he was still laughing. He rang me back at 10 to tell me that when he told the police officer what had caused the accident the officer then broke down into hysterics. Bystanders reported seeing a car smashed into a pole with a man and a police officer both sitting on the gutter laughing.
So we somehow survived that crisis until 11.30 when a particularly serious gentleman rang asking to speak to the News Director. He promptly announced that he was a solicitor representing the said athlete, informing me that his client had been grossly defamed in our morning news.
He went on to explain that the said defamation was heard by the man's wife and family and that they had thought our comments were highly offensive. I asked if he'd actually heard the comments himself and he said yes, indeed he had heard the 8 AM news on the way to work.
There was a slight break in his voice and I admit I actually started to laugh.
Then he broke down and started to laugh. And we both spent the next 15 minutes laughing hysterically.
Finally he hung up and we never heard from him again.
At last the Games came to an end and we sadly had to say goodbye to the allegations of the plasticine in the pants.
Webster and I looked at each other and the look in our eyes said the same thing, "Please God, just don't let Bailey loose again, just give us some breathing room, just normal news and sport."
It was not to be. God in his wisdom had decided that New Zealand would play a test cricket series in Australia including a match in Sydney. Mr Bailey left little doubt about his opinion of New Zealanders making various thinly veiled remarks about the Land of the Long White Cloud. He gave the Kiwis heaps.
Then New Zealand struck back at Bailey with the great all rounder Richard Hadlee announcing that he was going to retire at the end of the season. This would be the last time we'd see him in action in Australia. Bailey announced this piece of news and for a brief moment it sounded as if there was actually a hint of sorrow in his voice. People started to call in support of Hadlee, happy to give Bailey some of his own medicine. I was on to this at the speed of light and opened up our recording line for people to call in and say their farewells to the great Richard (soon to become Sir Richard) Hadlee.
The phones were flooded. Some cricket fans were actually crying. We kept the recording line going for 48 hours. Then I rang the Prime Minister's office and asked if Bob Hawke would like to join in. He was on the line in 20 seconds with the most incredible tribute. We played it uncut. We couldn't stop the phone calls. They just kept coming. Clearly the public loved this bloke Hadlee. He epitomized the whole Australia/NZ relationship - we give each other heaps, and we absolutely hate to lose when we play each other at sport - but when the chips are down we are there in the trenches together. Does the word Anzac ring any bells?
Anyway, it was early afternoon and my batting average on this story was pretty close to Don Bradman's so I thought I'd go all the way and ring the New Zealand Prime Minister, I think it was Jim Bolger, to see if he'd like to say a few words on air. Now his office was adamant, "No way!" Jim had apparently had a shit of a month and had taken off on a fishing trip, not to be disturbed under any circumstances.
There was no way he'd agree to call.
15 minutes later the Prime Minister of New Zealand rang 2DAY FM with the most heartfelt tribute you have ever heard in your life. Hadlee of course was an icon.
I had a quick meeting with Cherie and Noel (yes they were talking to me now, well not openly so that anyone could see, but definitely talking) and we all agreed.
Peter Kukura and I would put a one hour special on cassette full of all of these wonderful tributes and we'd present them to Hadlee at a coming test match in New Zealand.
I'd already been very sneaky by leaking a lot of the audio to one of our sister stations in New Zealand, and they lapped it up. So the whole thing was absolutely huge in Kiwi land.
There was only one thing left to do. We called Tim Bailey in and in very sobre terms informed him that he would be flying to Auckland and in front of a huge crowd of New Zealanders, it would be him who'd be presenting this tape to Richard Hadlee. Personally. Smack in the middle of enemy territory.
Webster and I loved it. Here was the ultimate penalty for that little smart alec. He'd ducked all of the bouncers we'd bowled at him but now was the ultimate reckoning. We doubted he'd actually get out of Auckland alive. Indeed Webster and I had put together what we thought was a fitting tribute to Mr Bailey should he fail to make it back over the Tasman.
As usual - yes, you guessed it - the trip was an overwhelming triumph for you know who.
As I understood it, Bails entered the cricket ground for this famous presentation decked out in a dinner suit jacket, accompanied by shorts and a pair of work boots. They loved him. This man who had personally delivered more insults to Kiwis than Ian Chappell at first slip charmed the living daylights out of the lot of them. The Auckland radio station rang, "Could Tim stay longer to do some guest appearances," "He's the biggest celebrity in the country," etc, etc. It was absolutely mortifying.
I looked at Webster and we both thought the same thing, "No, you bloody send him back home. He's not going to swan around New Zealand like a superstar." And so he returned but it was never the same.
The station had by now moved into the ownership of Austereo and it quickly became obvious that the two Tims were not actually Austereo material. Every time I mentioned the Tims Paul Thompson, Greg Smith and their team looked left of camera and suddenly found they had to get to an urgent appointment somewhere.
Oh well, we had a good run and for a few months radio was suddenly the way it was back in the 50's. No one had a script, it just sort of happened, but oh brother when it happened to someone like John Harper on 2KY and years later to the "Two Tims" on 2DAY FM, boy, did it happen. And how wonderful it was to be there.
Austereo was very successful in this new breed of programming. Everything was researched. You gave the target audience exactly what they wanted. Nothing just happened. Not even the humour. Spontaneity? Sorry not on the menu. Funny thing about Austereo, no one really laughed. It was very, very serious.
But to be fair, they had the last laugh with both their ratings and their bank balance. They were clearly doing what their audience wanted. The thing is that they took this philosophy into news. News became what the audience wanted. If they didn't want it, it wasn't news. Which took us all into a whole new arena as we essentially argued the key issue: does a journalist have a responsibility beyond the audience's demands? It may not be a hot item in the monthly "focus sessions" but what if the journalist believes it to be important for the audience to know? Tricky, huh.
This was the basis of a keynote speech when I went to the RTNDA symposium in Las Vegas that year. The CBS reporter Jeff Greenfield spent some time talking about the "death of the gatekeeper". He said that one of the most crucial components of any newsroom was the "gatekeeper" - the veteran who'd been through it all and was able to sit back and say, "That isn't news," or "Hey, why aren't we doing this story?" and then explain to his fellow journos why.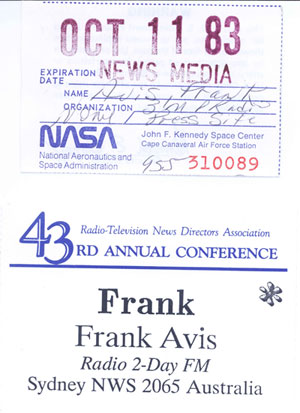 Greenfield argued that the gatekeeper was being removed from most of the gates in radio and TV around the globe and that we were essentially reverting to news which was strongly driven by demands for trivia. The exploits of 21 year old actresses, who were stars after making one movie, had suddenly become preeminent. Look, let's be honest, the Austereo format which was basically a quick series of headlines and weather followed by a 30-60 second "informational", essentially aimed at the female audience, was also legitimate and proved to be highly successful.
The truth is we now have so much programme diversity that everyone is catered for. If you want the more traditional news you know where to go.
This entry is probably going too long but there are a couple of things I should also mention.
First was the day Austereo's ND John Williams (a really nice bloke, we also got on extremely well) brought in this hot shot news programmer from the US West Coast. He was the man who apparently formulated a lot of their ideas. So I was ushered into the Board Room where John and I sat down with several of the Austereo heavies to hear what the great man had to say.
He was walking up and down the boardroom looking out of the window. He did this for some time, in fact he did it for a very, very long time. Suddenly he turned and uttered these immortal words, "Headines... Very important!" Then, allowing us sufficient time to mentally process this incredible breakthrough in news programming he returned to his pacing up and down the room.
Some time later he suddenly wheeled around again and looked me smack in the eye saying,"Weather... That's critical!" After that I think he left the room, probably to recover from this incredible intellectual feat. I walked slowly back to the newsroom thinking, "I've got to get out of this industry... Something's happening."
Also at this time I had another major brain wave. Again, the timing was gloriously awful.
The allies had just launched their major operation to kick Sadam Hussein out of Kuwait and all the way back to Baghdad. I wanted to do something entirely different.
I suggested to the powers that be that we could operate a national update from 2DAY FM which would feature a retired Senior Army Officer who would brief us on the operation at several peak bulletins through the day: 6, 7, 8, Noon and 6 PM.
I wanted to call it the War Room (Stop sniggering, it would have worked).
In these key bulletins we would have crossed to Colonel X in the 2DAY FM War Room for his latest update on the fighting. He'd take us behind the battles, describing the terrain where they were fighting and what sort of weaponry was featured at the coal front etc, etc.
I wanted to do a deal with one of the daily newspapers, preferably the Australian because they published in most of the capital cities, to include a two page detailed, coloured map of the area so that the audience could use the map to follow the Colnel's updates.
He'd even be able to use cross-references from the map to add to the authenticity.
I flew this idea before the senior administrators and I have to report that it went down like the proverbial lead balloon. There were a lot of sideways glances, heavy whistling and movement from one foot to the other before we sort of went our separate ways down the hallway.
So, we all gradually rode into the sunset.
I went for a brief stint to 2SM which was in the process of self destruction at the time (do you realise 2SM no longer appears on the ratings sheets in Sydney? They have to be included among "Others").
As for the two Tims, well, I don't see anyone anymore really but I watch them. Web does the sport on Ten News and Bailey does the Weather, cheeky as always.
Thanks guys for one of the most memorable, albeit controversial, periods of my radio career.
There were other developments during this period, including my movement into teaching, but I think that'll have to wait till next time we meet.
PS. If there's anybody I haven't defamed so far please leave your name and I'll correct the oversight as soon as possible.
Related Posts
---
by Frank Avis | January 13, 2009
2MMM was centred I think it was the 25th floor of this super high-rise building in Bondi Junction.
---
by Frank Avis | December 24, 2008
I finally got back to Sydney, twenty years after heading into country radio, to join 2GB as News chief.