Reunion with Frank
by Frank Avis | July 1, 2015 | Radio (general)
Here we go with some more stuff about that most complex of industries... Good old radio.
Here we go with some more stuff about that most complex of industries... Good old radio.
History took me recently to the Pymble Hotel on Sydney's outskirts where I diced with death taking the pedestrian crossing along the Pacific Highway over the rail line. It was a bit like going back to Srinagar Airport really, minus the machine guns on the roof of the terminal (not to mention the rocket launchers on the runways)... Anyway, I stumbled inside to be met by the event organiser, Andrew Kilpatrick, our Resident Curator of Radio. Then, standing a metre in front of me was a familiar face, one of my dearest colleagues from 1976 and 1980, Geoff Brown. We gave each other a hug and quickly launched into a wealth of memories including the night we sat on my lounge room floor from 8pm 'til daybreak rewriting 3MP's programming policy after having had our licence refused. Wooo... that's probably a drama best left to another time and place. Suffice to say that ordeal was basically like being in the same platoon during a war. When you go through that sort of stuff you're brothers for life. So Geoff and I are brothers for life. There were old radio people everywhere. I loved seeing Holger Brockman and Mike Drayson, but didn't get anywhere near enough time together. Wonderful pleasure to meet up with Wayne Mac, our legendary radio historian and to sign his famous book,
Don't touch that Dial
. I noticed that other signatories had put their stations alongside their signature and proceeded to do the same, thus taking up most of the page. It started with 2MG in '54 and ended up with MIX 106.5 in '96... I think I might have forgotten a couple at the end. I met a lot of people - Gregg Sinclair, Tony,Jose, Robert and others, forgive my memory -. and we told each other lots of stories over the next 3 hours. Wayne was especially interested in the early days at MMM and I was able to confirm that I WAS the founding News Director - signed up by Rod Muir in 1980 - and I hired Terry Mabb, Jim Carroll and Jason Wayne as our roving reporter. The view from the high rise was unbelievable and the place really rocked with some good old rock and roll, courtesy PD Cherie Romaro. Sadly I had to get out in 9 months but that's another story (there are so many "other stories").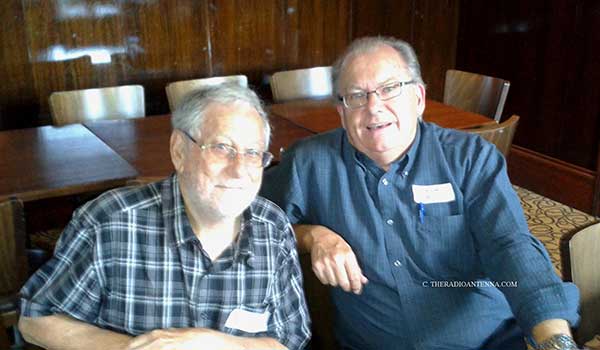 The above pictures show Andrew and Wayne with some mysterious old bloke who apparently just wandered in from the street. How did this old bugger manage to get in? Whatever happened to our security?
One thing I realised was how those memories had to be recorded as part of our industry's folk lore. I'm a cricket tragic and I can get a book which takes me back to a test innings by WG Grace or Victor Trumper, and re-live it ball by ball. All because somebody sat down and recorded the moment for posterity. All of a sudden I realise what we owe historians like Wayne and Andrew... the "Keepers of the Flame".
Keep recording all this stuff fellas... Keep recording the memories. They're the real history.
I don't think you can get a copy of
Don't touch that dial
currently - have to check with Wayne - but you can catch up with plenty of historic radio actuality if you head for Andrew's web site,
The Radio Antenna
. Enjoy.
One of the conversations that was sadly cut short was when one of my colleagues said that young people weren't really listening to the radio anymore. Not sure who it was, might have been Wayne Mac, but I need to resume those talks because it's absolutely fascinating.
The theory is that they don't need to have a radio anymore. They're walking around with a phone that is playing the music they want to hear and updating the news and sport. Well, not so much updating... More like probably playing it live on the phone's screen. It's an incredible avenue of conversation. What has radio to offer the under-25's over the next couple of generations? Are we going to lose them?
One of the big stories of 2015 is the end of the 2UE newsroom, closed down to be affiliated with Macquarie's 2GB News operation. UE has hit hard times and the accountants have decided to bite the bullet and go cost cutting, especially in areas that are labour intensive. But it has shocked the industry, especially those who remember the great days of UE when it ran its own national network. Those days incidentally weren't so long ago. That's what is such a worry. Now people are ringing and emailing me, expressing the fear that UE may eventually go completely. This is a broadcaster that started in the mid-20's - the oldest commercial radio station in our history. There was a time when UE and GB fought each other tooth and nail. Now, with the Macquarie-Fairfax merger they're going to have the same newsroom. There are people turning in graves all over the place.
I wrote a fairly negative piece in my last report warning that the "luck" just couldn't last in the lucky country, that we just couldn't afford our lifestyle forever, that the cost of everything, especially wages, would have to come down closer to the level of our trading partners. It's been a wonderful ride but reality is standing there in the wings waiting to enter.
My recent SMH carried a report from the independent think tank Per Capita warning that we "face an inevitable correction with real wages set to fall markedly to reflect the nation's changed economic circumstances". Fittingly, it is titled "PARADISE LOST? THE RACE TO MAINTAIN AUSTRALIAN LIVING STANDARDS". I know you're going to say, "Don't worry... She'll be right... It'll all work out in the end." Sorry guys... She's not going to be alright.
I was reminiscing with someone recently and got to thinking about all the memories you get while you move around during your career.
2MG, MUDGEE 1954. I was a teenager heading up country all by myself. I was met on the train platform by the Manager Bill Marsden – lovely bloke. It was sunny and there was a different smell in the air. I loved that aroma and still detect that smell when I drive out into the country. It says, "Welcome to rural Australia." You never forget the smell of the countryside. And a warm and sunny day in Mudgee is so much better than the same weather in some over- populated city. You hear so many stories about successful people who've travelled the globe but return to their home in the country at the end of their life. I think they want to smell the air again before they die.
SYDNEY 1976. I returned to the Big Smoke briefly for a meeting and took a bus ride up to the Upper North Shore. I stepped off the bus and the heavens opened up on top of me. The sky dumped rain as only Sydney can. I was standing in this downpour, trying to hide under an awning, and there in front of me was this gorgeous beach and beyond that, lapping at the sand, the wonderful Pacific... The most beautiful ocean on Earth. Then the rain stopped, the sun came out and there was this magic, this electricity, in the air. Only Sydney feels like that after a Summer afternoon deluge.
I remember in the 40's and 50's you'd be sweltering in temperatures up in the 90's and my Aunty would look at the horizon and start getting her washing in. She knew what was coming. Sure enough the southerly buster would sweep in at 4 O'clock, right on queue, dumping an inch of rain in half an hour. Oh I loved that southerly buster.
6PR, PERTH 1974. The first thing I think I noticed was the difference between the oceans.The Pacific was this gorgeous blue but the Indian on the other side of our nation was, as I remember it, basically green. And there wasn't any dirt. It was all sand. Not sure whether I have overly romanticised those days but the PR format was dead-set marvellous. My hero, Rhett Walker, had fashioned this MOR operation which had a sophisticated feel but was enough country to include "lost dog and cat" announcements. It worked perfectly,e specially for jocks like Ted Bull, Dean Matters and, I'm pretty sure, Tony Hartney. The play list was pretty much perfect but I'm no expert in this field. You'd need to speak to Cherie Romaro who can tell you about PR and 2DAY a decade later. Both excellent adult formats.
Finally, the thing that drives me to distraction in 2015. I settle into bed around 9:30 and put my trusty radio on to ABC's Newsradio, hoping to slowly nod off to the sounds of local newsradio, backed up by its partners, BBC and US National Public Radio. All goes well until Monday night when I find myself subjected to the dreadful ABC panel show, Q&A.
From the top let me acknowledge that I hate these BBC-style panel shows whether they be on political/social issues or general entertainment (never, I entreat you, watch
Would I Lie to you?
) The thing about
Q&A
- and indeed the whole ABC operation - is that it's so incredibly biased. I've spent years trying to understand how the National Broadcaster can be so far removed from the fundamental social thrust of the general population. Conspiracy theorists will tell you it's all part of the plan, carefully organised by the left-wing bureaucrats. But I talk to a lot of ABC people and I don't think there is any such plan. I genuinely believe that they simply don't realise that they're doing it. These are people, way beyond mainstream Australia, who are educated and intellectually indoctrinated with a belief system which forms the basis of all their work. That "basis" is simply never questioned. It is the platform from which everything else operates. If you question the "platform" they look at you as if you're speaking Esperanto, whatever that is. I've spent some time trying to find a phrase that summarises this ABC ethos. Recently I was wading through a whole heap of opinion about
Q&A
and I happened upon a piece by journalist Janet Albrechtsen who described it as "cultural arrogance". You nailed it, Janet. Wish I'd come up with that one.
Anyway, the bottom line is I seem to have a lot of nightmares on Mondays.
Related Posts
by Frank Avis | March 18, 2021
Coronavirus, John Brennan, Jim Graham, Sydney radio survey, television and Brexit.
---
by Frank Avis | May 25, 2017
Sitting in a doctor's surgery recently and I happened to catch an hour or so of SmoothFM. You might remember my dire warning last time of a return to the 1929 "crash", a sort of economic variation on Dante's "Inferno".
---
by Frank Avis | January 12, 2016
This is definitely beyond as it relates to my persistent warnings about the impact of modern technology.