The Spring of '17
by Frank Avis | November 17, 2017 | 2010s
I don't think we need to take up too much of your valuable time with the latest Sydney radio ratings. Enough for you to know that 2GB is obliterating everything else in the AM band with Jones and Hadley owning the 5:30 to noon arena — and quite a few other areas to be honest. KIIS is battling it out with WS FM and SMOOTH for control of the FM sector.
I don't think we need to take up too much of your valuable time with the latest Sydney radio ratings. Enough for you to know that 2GB is obliterating everything else in the AM band with Jones and Hadley owning the 5:30 to noon arena — and quite a few other areas to be honest. KIIS is battling it out with WS FM and SMOOTH for control of the FM sector.
2DAY FM has slipped below the dreaded 4% dividing line while the old UE remains in distress at 3.3. On the other hand our old friend CH picked up a full % to climb up over 4.
It's been a good couple of years for the News/Talk giant 2GB. Every time something goes haywire in the world — every time things change dramatically — the audiences gravitate to the purveyors of news to find out what's going on. We've had Brexit, Trump, Islamic Terror, Immigration and the second coming of Pauline Hanson, the Abbott axing and now North Korea and its nuclear posturing. The 2GB sales staff have to love these crises, as the ratings never move off automatic pilot. This year North Korea's Great and Fearless leader, Chairman So Long Oo Long How Long You Gonna Be Gone Please Don't Be Too Long Oo Long, So Long, Hurry Back Home, has been busily firing off missiles out across Japan into the Pacific, promising he'll have a long-range weapon ready shortly to go all the way to the US even down to Australia. This sort of tension is just made for the News/Talk specialists. And Oo Long the Great may well carry out his threats. The last report I had was that his IQ rating was round about the same as a kilo of tin foil.
The big showbiz story up here lately has been Lisa Wilkinson's defection from Channel 9 after a big money offer from the 10 Network. This triggered a lot of meaningful looks from many of us who were seen muttering about "the Mike Gibson syndrome". Gibson was a superstar at the 9 network in the 80's including his classic sports reports with Brian Henderson on 9's prime-time news. The two legends had this astonishing chemistry — they clearly loved working together — and it was a major shock to the system when 10 waved a large cheque book in front of Gibbo in 1988, ending one of the most endearing TV partnerships of the era. Mike continued as a major figure in the industry but, sadly, that halcyon period was over — Gibbo and Hendo had parted ways. The magic was gone. Every time anyone flees 9 and heads for 10 these days we all look at each other knowingly and start long conversations about "the Mike Gibson syndrome".
I've recently touched base again with several colleagues from the past: Chris Lewis, from the old days at 3DB (I have no idea what it's called nowdays); Dean Matters, 6PR, 3MP, 2DAY FM (lots of wonderful memories there); Jeff Sunderland, of 3XY (his banter with Bruce Mansfield has become legendary — it was very, very funny stuff); and talking of XY, ex-PD there in John Burls. Hope you guys are all well as we head into the last months of 2017.
I found myself nodding off in the afternoon sun recently transported back to "the Golden Age of Radio". We were either gathered around the old set on the mantelpiece or fiddling with the crystal set we built ourselves to listen to such classics as Tuckonie's Search For the Golden Boomerang (never found out whether he actually found it). The Air Adventures of Biggles, Mrs 'Obbs, Yes What, Much Binding in the Marsh (Kenneth Horne and Richard Murdoch) and the much celebrated Take it From Here (Jimmy Edwards, Dick Bentley and the Glums, Ron and Eth, who personally set civilisation back 200 years — and we loved every year of it).
Please find attached photo of my RTNDA badge, marking membership of the Radio and Television News Directors Association (International Division). A little bit of history there.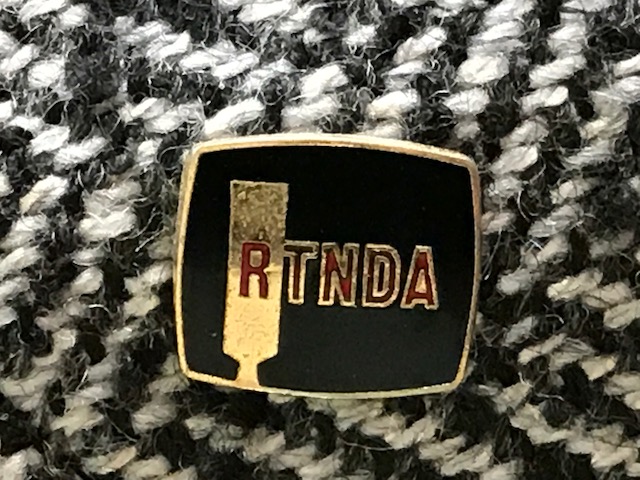 The RTNDA dates back to the mid-40's and hold a standout convention in the US every year which remains a journalistic must-go.
Did you notice a bit of history over the past month with the last "Aussie" cars coming off the assembly lines? Another 13,000 workers wandered off into the economic sunset as the final Camry rolled off the assembly line at Toyota's plant in Altona and they waved farewell to the last Holden at Elizabeth in Adelaide. Yes, people, it all disappeared with a whimper, no sign of a bang. What will we do now with that iconic photo showing Prime Minister Ben Chifley standing alongside the first ever Holden in 1948? Altogether we'd seen the end of 30,000 jobs in the automotive industry over the last 5 years. No wonder they're calling it "carmaggedon"!
Australia still makes the odd bus, truck and trailer but all those passenger cars — eg Toyota built nearly 150,000 12 years ago — are going to come in from OS. We don't make anything in Australia anymore: it's all imported. The astronomical cost of labour and the dramatic rise in general production costs — especially energy — means 18 year old kids today all need a degree in IT to survive. And we refuse to stop this economic tsunami. We want our imports and we want them now, today. This is a nation which will sell anything to pay for our import habit — we'll sell our resources, our land, our businesses, our ports, even our power grids so we can afford our good old Aussie lifestyle. We haven't sold our water yet but it's only a matter of time before the Chinese buy Warragamba and the Snowy River scheme. We'd sell our mother if the Indians made a good offer.
So given all of this negative outlook I was stunned to learn that the international King of Steel, Sanjeev Gupta, had loaded his family on to a plane in London and shifted everyone out to Sydney where he intends to set up his base down under while he undertakes billions and billions of dollars worth of massive projects. He started collecting assets with the purchase of the Whyalla Steelworks and is now widening his targets to include power generation, mining and infrastructure. Why would this smart international "mover and shaker" come into the Australian market with its ridiculous labour costs and having to battle energy prices which are now up there with the highest on the planet — and probably a few other planets as well?
I look forward to his first union meetings. But one thing I can tell you about Gupta is that he is a great lateral thinker. He ran into the same sort of issue when he started up in the UK especially the high cost of energy in Britain. His team overcame this little obstacle by BUILDING THEIR OWN POWER PLANTS, saving over a third of their energy bill. Please Mr Gupta — work your magic will ya, and save Australians from themselves? Ta!
Yet again, we're watching our TV screens as innocent people are gunned down by boofheads who think killing over 50 people in Las Vegas will somehow solve their mental issues. No one in Australia understands America's love affair with the gun. No one understands the galahs who run the National Rifle Association which argues the answer to the "shooting disease" in the US is to put even more guns out there on the street. Arm everybody. It just goes on. Washington has no hope of changing the 2nd amendment, which advocates the right to bear arms. It's with Americans forever.
I talk to a lot of colleagues in the United States and I'm lost as to how this sophisticated country could possibly allow this to happen. As I remind my friends over there when a civil war ends in a country, say in Colombia, what's the first thing Government troops, or peacekeepers if they're involved ,choose to do. It's a fundamental step: GET ALL THE GUNS OFF THE STREETS.
They do a deal with all parties to hand in their weapons. The United States — the great beacon of hope in the Western World — does exactly the opposite. Every time their citizens are mowed down by a backwood's militia, by local or Islamic terrorists or – indeed – by those with serious psychological problems, their answer seems to be to make guns even more available to the citizenry. Maybe they can be sold down at the local diner? It is totally baffling. This crazy law giving everyone the right to carry a 6-shooter — er, make that a 600-shooter nowdays — goes back to the 1700's when the states were determined Washington would never be allowed to run a large army and when the new United States were looking over their shoulders, fearing another invasion by the British or the French. Things have changed in the 2000's. Washington definitely has a large army and I don't think the Brits or French have any invasion plans for the Americas.
My favourite solution — from a commentator with a nice dark sense of humour — is to continue to honour the "right to carry arms" but to ensure these weapons can only be muskets.
I see former Opposition Leader, Dr John Hewson, has thrown his support behind the economic doomsayers, like myself, arguing that the housing boom is in danger of collapse, triggering an Aussie version of the Great Financial Crisis. Lots of economist are joining the chorus, questioning the policy of the Reserve Bank in keeping interest rates down at record lows. They all come to the same conclusion: that this has triggered a massive surge towards real estate which can only end badly.
Finally, I have to confess that old habits die hard. I still read the Phantom comic strip in my Sunday Telegraph. You may laugh and talk about a "second childhood" but doubters beware. I remind you that the Phantom is "the Ghost who Walks". He is all knowing.
Related Posts
by Frank Avis | January 6, 2020
Well, she's all over for another year and the Alan and Ray Show ended the ratings, owning Sydney's overalls...
---
by Frank Avis | December 2, 2019
Are we watching the death of a Sydney radio giant with the announcement that the experiment with Macquarie Sports on the old 2UE is over?
---
by Frank Avis | October 23, 2019
Radio, Alan Jones, Graeme Turpie and Ian Nicholls, Brexit, Richmond AFL and TV.