2GB is front and centre on our radio dial this month
by Frank Avis | June 30, 2020 | 2020s
2GB is front and centre on our radio dial this month with the shock resignation of the News Talk superstar Alan Jones.
2GB is front and centre on our radio dial this month with the shock resignation of the News Talk superstar Alan Jones. It seems only recently that the two parties survived a very public falling out to cement a new deal. Now it's over and Jones has already departed the scene, cemented as the industry giant of this generation. It's been a very strange parting of the ways: the official line is that he's leaving on the advice of his doctor but those in the know are saying it's essentially a commercial decision by GB, responding to a severe fall in income in Breakfast for the last 6 months. Jones, of course, is not lost to the media. He'll continue in his high-profile commentary role at Foxtel. Whatever, it is a monumental radio loss and presents Ben Fordham with one of the great challenges in recent radio history... How to hang on to the astronomical ratings of The Great One. 2GB of course not only has to worry about the direct impact on the Breakfast ratings but the carryover component... The number of listeners passed on to Ray Hadley at 9 o'clock. The one thing I keep asking is where would the audience go if it were to jump ship anyway? The end of UE News Talk some time back means that there's no real AM commercial competition. The possibility is that the ABC could sneak an extra 2-3% in the Brekky slot. The next survey after the departure of Jones will be incredibly interesting for aficionados like your reporter.
I feel I should also pass on a compliment here to ABC having given them a bit of a hammering in the last few years. I've been listening to ABC NEWSRADIO for a while now and have to tell you there's been a dramatic improvement in the quality of the overall quality of the product. I've only noticed this in the last couple of months but got to say the standard of their presenters has taken off at warp speed. I listen for an hour or so nearly every night and it's a pleasure to hear top-quality programming. I'm not getting as much BBC input as we used to have but I'll surrender that for some really good homegrown material.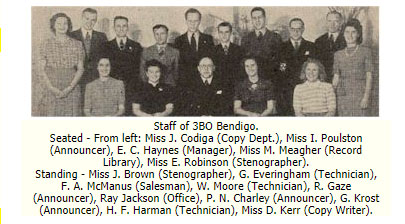 A real historic gem here, with the attached photo, which I filched from a 3BO BENDIGO website. I was searching for information about one of the post-war radio greats RICHARD GAZE, "The voice of 2GB", at the height of the fame of the Macquarie network back in the late '40s and '50s. I worked with Richard briefly on the nationally networked home decoration series, Paint it Yourself, promoted by British Paints. He was one of the truly great voices of radio but I hadn't realised we'd shared another common point of contact, in that he worked at 3BO in the late '30s and I worked there back in the late '50s. I was also stunned to see he was a Captain in WW2, working on General MacArthur's staff when the US commander was in charge of the war in the Pacific.
As we speak the coronavirus continues its path of destruction across the world and no one really has a clue where all this is going to land. We know it's already been an economic disaster but let me warn you the real impact on our civilisation is not going to be known for another 6 to 18 months. What happens when our Governments can no longer borrow money? What happens when businesses go down and unemployment runs up to 20 percent? What toll will be taken on our society when tax revenue runs out and Governments can no longer pay for our police, doctors and other vital services? 2021 may be the most critical year in our modern history.
One of the great games we play in the sports sphere is to name the best golfer who hasn't won a major. It used to be Lee Westwood, runner-up in 3 Majors (2 x Masters and 1 The Open) but I think we've got to admit he's probably lost his chance. Now, I'm thinking Matt Kuchar with 9 PGA tour victories and a runner-up in the 2017 Open... Ricky Fowler with 5 PGA tour wins and second places at the 2018 Masters, 2014 US Open and the Open in 2014. The "up and comer" who desperately needs to break the major ice ASAP is probably John Rahm, winner of 3 US PGA tour titles. We can add Ian Poulter, a 3-time US PGA tour winner, including 2 WGC titles plus 1 runner-up in The Open and Australia's Mark Leishman with 5 US victories and a runner-up spot in The Open.
Oh, and I'm having this wonderful dream from time to time where Greta Thunberg, Amal Clooney and Jacinda Ardern are all trapped in a lift and have to spend 3 hours listening to each other. Sorry, that is so politically incorrect.
Related Posts
by Frank Avis | May 13, 2022
Federal election, 2MG, Russia and China...
---
by Frank Avis | April 1, 2022
Alan Jones, Cameron Williams, Geoff Harvey, Ukraine, COVID, sport and television.
---
by Frank Avis | December 31, 2021
The year is ending badly with the death of a long-serving industry veteran and a former colleague, Glenn Daniel.