Crikey! What a heck of a month we've just had
by Frank Avis | December 16, 2020 | 2020s
Coronavirus, US election, radio ratings, Bob Hughes and Yowies.
Crikey! What a heck of a month we've just had. The coronavirus has returned in a second wave across the Globe while researchers have confirmed the impending arrival of a successful vaccine – Donald Trump has been unseated at the White House (?) and the mighty 2GB continues to rule the AM band in Sydney radio while another old-timer, 2CH, abandons its frequency, 1170, being replaced by the SEN Sports Network, and transferring across to Digital DAB technology (whatever that is). As Lennie used to say in Law and Order, "go figure".
My predictions for the US Presidential poll weren't far off the mark with Joe Biden appearing to take victory but only after Donald Trump launched a last-minute comeback, just failing to win several key states. Indeed, I went to bed Wednesday night telling colleagues Trump might just manage to win, holding on to several key electorates in Michigan, Wisconsin and Pennsylvania. As it turned out, over the next 48 hours, the suburban vote turned against him in the late counting. We all said I think that Trump was the most vulnerable leader in the wake of the coronavirus and so it turned out to be. His election platform which was pretty much "the economy, the economy and the economy" was undermined by the global virus which has left most nations with their economy in tatters or at least suffering serious stress. As we speak Joe Biden is making speeches as America's next president while Trump refuses to accept defeat until all of his legal challenges are exhausted. Let's hope nobody declares war on the US because the Supreme Court would then have to decide who is actually the Commander in Chief.
2GB continued its strong showing in the latest Sydney survey with SMOOTH the top performer in the FM arena, although KIIIS is the number 1 rated FM Breakfast show. 2CH left its old frequency, after nearly 90 years, ironically as its ratings lifted to just under 5%. I'm still getting my head around all of this but basically does it mean the next ratings will be without 2CH and 2SM, a couple of the originals of Sydney broadcasting? And a late dispatch from the front shows GB still running the show in the final survey of the year with SMOOTH and KISS fighting it out in the FM arena. Our old mate 2UE is just holding over 1% but CH has made an excellent transition to DAB, taking a hefty slice of its audience with it.
I was talking to a mate recently who reminded me that one of the best voices in the business, Bob Hughes, was no longer with us, dead from cancer, aged 67. I can't remember recording this in my memoirs earlier in the year so – if I failed to do so – let me rectify that error. Bob started in the classic manner, on country radio, before graduating to WSFM in the big smoke. I worked with him in the early days at MMM FM and then at 2DAY FM before he moved on to the ABC. It pretty much describes his ability to work in any format that he was doing MMM rock 'n roll in 1980 and ABC radio a few years later. Another of the big names of radio has sadly departed.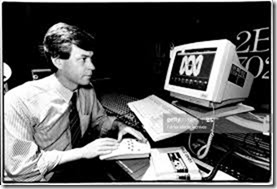 Regular readers will know of my deep interest in all of those stories of mythical monsters from one end of the planet to the other – Bigfoot, Yeti, the Grass Man included – and here in Australia the Yowie (remember too, my bizarre encounter with the Great Hairy man in the mid 50's... maybe we shouldn't go there!) and one of my personal favourites – the Black Panther. He pops up all over the place – from the Blue Mountains down to the Murray River. Thought I'd mention a strange little story relating to that which really grabbed my interest yet again. I was watching a documentary on SBS I think it was one afternoon – it was a slow day, no footy – which featured a husband and wife team who set out to kayak their way from Albury, right along the 2,500 k's of the Murray River, to where it hits the ocean in South Australia. Anyway, they had a wonderful time seeing all of the historic towns along the way and meeting a lot of fair-dinkum Aussies straight out of the old Bulletin magazine. One afternoon they stopped off at this country town on the NSW side of the border, well down the river in classic Aussie outback territory. And they happened upon a meeting of several farmers who were discussing how their cattle were being attacked by a savage creature in the area... clearly a very large and strong creature. This as it turns out had been going on for years. They blamed the Black Panther and took our kayakers down to the local museum to look at a lot of old local papers, going back to the '40s, showing how many circuses, which used to roam the countryside in those days, had tended to just release their animals into the wild when the circus ran out of money. And the theory goes these animals included quite a few black panthers. The farmers went on to explain how they'd been tracking these animals and had collected quite a few samples of droppings that were not known to them. These blokes all knew what dogshit was and what kangaroos, deer and other native animals left behind... But this stuff was totally unknown to them, so they packaged it up and sent it off to the State Government labs for an official verdict. The answer came back... dog droppings. The analysis was that they'd picked up dog poo. Which they all found really unusual because most had been farming in the area for over 30 years and they all had a pretty good idea what dog droppings looked like. One day one of their neighbours found out that a relative worked in the Big Cat enclosure at Melbourne Zoo. So they had a chat to him, explaining how they'd love to compare the samples they had from their farms with the real thing... Poo from a big cat. Anyway, the zookeeper was happy to oblige and sent them some of the genuine article... a black panther from the zoo. It looked exactly like the stuff they'd collected locally so they sent the panther's droppings off to the Lab, pretending that they'd found it in the NSW countryside. The finding came back... IT WAS FROM A DOG. Er what? Make of that what you will.
I was watching Remembrance Day earlier in the month and had this wonderful vision for the next AFL Anzac Day Match, before 100,000 fans at the G. I could see an elite Army marching squad drilling out there at half-time with a top female vocalist pounding out one of the great classics of WW2... "A brown slouch hat". This was one of the most stirring songs of the War and I only found out recently that it was written by one of the great comedians of the era, George Wallace.
For those of you who weren't there back in the 40's have a listen to these lyrics...
"It's a brown slouch hat with the side turned up and it means the world to me,
It's the symbol of our nation, the land of liberty.
And the soldiers they wear it, how proudly they bear it for all the world to see.
Just a brown slouch hat with the side turned up, heading straight for victory."
Now that Richmond has cemented its status as one of the supreme AFL sides of the modern era scoring a great win over arch-rivals Geelong in this year's GF, it's time to correct some rantings of the sports journalists which I've been reading and watching in recent weeks. I sat and watched astonished as three of my all-time favourites from Fox Footy – Gerard, Robbo and Mike Sheahan started discussing the Man of the Match, the magnificent Dustin Martin. "Did this make him," they ventured, "the greatest Tiger player of all time... greater than KB (Kevin Bartlett), ahead of Francis Bourke and Royce Hart?" It was all I could do to stop myself picking up the phone and saying... "Guys... Guys... There is only ONE Greatest Tiger of them All... He IS and ALWAYS will be at the top of the list... The legend himself, the iconic, the one and only Captain Blood, Jack Dyer."
Enough of these upstarts.
Jack played from 1931 to 1949, kicking 443 goals in 312 games with his beloved Tigers. He appeared in 7 Grand Finals, winning two – the second as Captain Coach. Even today when fans talk of the Tigers their immediate image is that of Jack Dyer crashing through the pack.
As I say there is only one – everybody else is running second.
The tribe has spoken.
Related Posts
by Frank Avis | July 11, 2022
Radio ratings, Mike Walsh, Federal Election 2022, TV crime dramas and what happened to the drop kick?
---
by Frank Avis | May 13, 2022
Federal election, 2MG, Russia and China...
---
by Frank Avis | April 1, 2022
Alan Jones, Cameron Williams, Geoff Harvey, Ukraine, COVID, sport and television.