Melbourne Radio
by Frank Avis | April 10, 2008 | 1970s
It was the early 70's and I'd made the big decision to switch from the faithful 3XY and move across to 3AK and it's "take no prisoners" rock and roll format. It was an unusual operation in that I was actually employed in Channel 9 news and answerable to the N.D Mike Schildberger, later Tom O'Connor.
But I generally managed to steer a course close to 3AK, mainly because of my good relations with Gary Day and the PD Rhett Walker (RW on UW). I had an immediate rapport with R.W who turned out to be a dynamic leader. We had similar interests and once he found out I was a Marx Brothers fan he immediately labeled me Wolf J. Flywheel. All my memos were hereafter marked "To: Wolf From:Rhett".
Now let me see if I can remember a few names. I keep having to respond to Emails from people I've completely forgotten which is dreadfully embarrassing. Others I've placed at the wrong stations and in one case the wrong city. I immediately responded to the wronged party by pointing out, I think quite reasonably, that at least I put him in the right country. I mean, how much accuracy do these people want?
John Bailey was the 9 reader at this time and he was one of the first to drop the declamatory approach and deliver the news in a more conversational style. Hendo, of course, perfected the technique in Sydney but Bailey was very, very good. I later saw him on Sydney's Ten news but to be honest I don't know why he didn't end up an out and out superstar. If you missed his style it was very masculine and very personable. I found him to be a really nice bloke. He switched to Current Affair in the early to mid 70's and had a real crisis when he came down with a killer dose of flu on opening night.
I remember Hilton Prideaux and Rupert Macaw in Tech along with I think Tom O'Donohue. At AK there was Graeme Boyd, Yorkie, Bill Howie and Tim Hewat while the much loved Peter Tate was our top news presenter, along with Graham Cumming, Barry Owen (from Hobart), Alex Shabs, Rob Grant and John Westbury.
Just after I left XY they went full on r 'n' r,challenging AK's number 1 status. They ripped AK to shreds from the first survey sending shock waves through the Richmond studios. Rhett's answer was to bite the bullet and switch formats to Beautiful Music.
I loved the dramatic change as it allowed me to virtually rebuild the news and information coming out of the newsroom. You should have seen my news guide to staff. It must have run to 30 pages.
But it all worked well and we saw the station back on to the right side of the financial ledger. There is incidentally a great story about Sir Frank Packer's first visit to the Melbourne studios, obviously long before I joined the company.
Sir Frank apparently rarely travelled by plane so he was driven down from Sydney arriving midway through the afternoon. Everybody was there, even the cleaners, to greet the great man. All the executives gathered to catch the historic first phrase uttered by the media mogul. Apparently, he got out of the limo walked through the guard of honour stepped inside the building and turned to the General manager asking… "Why are those bloody lights on in the middle of the day?"
It's not quite "one small step for a man…" but it has passed into industry legend.
One of the best stories during my tenure at AK was the Queanbeyan siege where a man had taken over a sports shop in the town and was reportedly holding his young daughter hostage, demanding his wife come to the store to talk to him. Apparently there'd been a break up of the marriage and the man had gone over the edge. As we understood it, he had his daughter tied to a chair and had manufactured a bomb to explode and kill her if he didn't get his wife to agree to the talks.
Anyway I grabbed a local phone directory (the first thing I did whenever I took over a newsroom was to stock it with every phone directory in Australia, plus directories for city centres like London, New York and Los Angeles), and started to ring the sports shops in the area. Believe it or not, I got him first try.
The father answered the phone and I started running a tape. He confirmed that he had his daughter tied up to a bomb and that he was threatening to explode it. We spoke for some time and it was obvious that he was desperate to find a way out of this dilemma and that he really didn't want to harm the child.
I asked if there was anyone he trusted to talk to him and he mentioned a local police sergeant. So I got a colleague to ring the Station and the sergeant hot-footed it down to the scene. I told the man that the Sergeant was waiting outside to speak with him and pleaded with him to go out and talk. There was no response. A short time later we got reports he'd walked out the front door and surrendered. The bomb was dismantled. We did a quick edit job and put 1'15" of the tape as the lead story into Peter Tate's 8.30 bulletin. I have to admit it sounded sensational. The guys at the 9 news desk loved it. They ran it as one of their top stories that night showing me talking on the phone and running the audio. The next day the Channel 9 caricaturist delivered a drawing to my office showing me, dressed as Superman, coming to the rescue. There I was thinking I was a hero and along comes this drawing, reducing me to a cartoon. They know how to get you, don't they?
Anyway I've kept the drawing to this day and with the good offices of my technical back-up team (ie. partner Darleen working with John and Janie) we will hopefully be able to include it in this report. I'm the thin bloke with the glasses who – for a brief time – thought he was more powerful than a locomotive and able to leap tall buildings.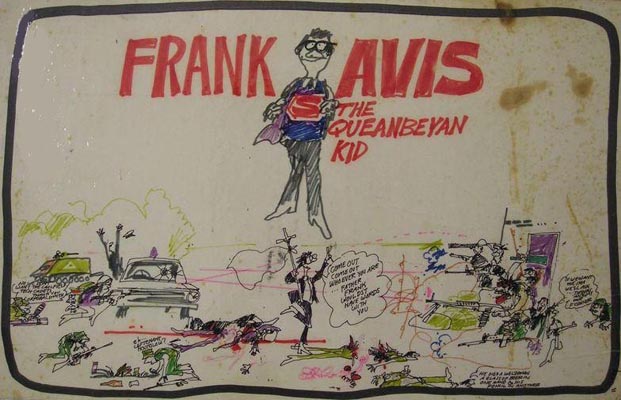 Things went along reasonably well at AK although there were ominous signs as senior staff started to depart. Gary Day left and then my hero, RW, departed to seek new fields of conquest in Western Australia. Then something rather unfortunate occurred. For some time I'd had this running dispute with a senior executive about… believe it or not… including the Football scores in our Saturday afternoon bulletins.
It was his argument that people listening to our all-music format would hear the footy scores and be enticed to switch over to a station covering the footy. My response was that the people listening to AK were actually doing so because THEY DIDN'T WANT TO LISTEN TO THE FOOTY. That's why they were with us. I said that our listeners got the best of both worlds.
They had their favorite music but our hourly news gave them the footy updates. This debate raged on although I was supported by most of the executive members. Then RW left and this person was advanced to senior executive status. I went on holidays for a couple of weeks and when I got back the footy scores were missing – under the personal direction of the senior executive in question. Nothing was ever said to me and there was no memo carrying the directive and the executive's decision.
I had talks with my staff and several execs, believing that the action was a direct attack on my position. Most of my staff I think were ready to back any stand I decided to take on the issue. They were extremely supportive. I went home and thought long and hard about this difficult problem. I was pretty confident that I would have been able to win the battle, but kept questioning whether it was the right thing to do by the station. My job, the transfer of news and information to this new format, was complete and increasingly I realised that I wasn't interested in long term tenure at AK.
From AK onward I tended to take on specific assignments in newsrooms, either succeeding or failing, before moving on to the next challenge. The rest of my career was based on this philosophy. I think people never quite understood that. I know the guys at UE used to call me the "Southern Aurora" because "I worked in Sydney and Melbourne and all the stations in between", (it was a really funny line), but that's what my career turned into…taking on particular assignments and then moving on to the next one. In many respects' I operated in much the same fashion as a modern football coach. The upshot was that I didn't see any future in declaring World War 3 over the issue so I decided it was time to find new pastures. I rang Rhett where he was re-positioning 6PR PERTH into an exciting new format and asked if there was anything going?. He said "come on over" and I did, joining ND Gordon Leed, Tom Drewell and Colin James in the Newsroom. We all had a wonderful time.
Before I leave Melbourne and head West to the Indian Ocean I need to set the record straight regarding a controversial story I ran in the Mike Walsh Show on XY. It was during the period that I was calling the footy with Jack Dyer. I took a phone call one morning from one of our staffers who happened to be in a certain place just before the Grand Final, Collingwood vs Carlton.
Anyway, several key Collingwood players had a semi-formal meeting over money. I don't know that it was as simple as this but as I remember it they were extremely angry at the huge difference in match payments between the locals – who were expected to play for the love of the club - and those imported from other states who were apparently getting a lot more.
The group of local players was irate and voted to consider withdrawing from the Grand Final team unless the issue was addressed by the club. They voted to make their feelings known to the Club and to meet later that week to consider the position.
My source was impeccable. There's absolutely no doubt that the story was correct. I ran it in the Mike Walsh show and the "fall out" started. The Club rang issuing the strongest of denials. The Press rang of course. The problem was that I ran the story before the players managed to put their concerns to the club. This was a disaster for the group of local players who had to retreat without even having had the chance to talk to club officials.
Oh boy, I was jumped on by everyone... The other radio stations and the press gave me heaps. Only one person offered support. My old mate, the ultimate straight shooter Ian Major, rang from 3KZ and asked me how I was doing. He didn't say much but asked if the source of my story was a certain person. Maj was absolutely trustworthy – and the person was a mutual friend - so I said, "Yes, he heard the whole meeting."
Maj replied, "Well, if he told you that, then you can believe it... It'd be right."
We then had a laugh about the business. I mean it doesn't matter whether you're right or not.. what matters is can you prove it. And I couldn't without publically revealing the source and the players involved. And I'd given my word that I wouldn't do that. If my "source" happens to, reading these recollections... I kept my word mate.
So, the upshot of all of this is that we put the trusty Valiant Ranger on the train and boarded our plane heading for Perth. Perth, on the Indian Ocean, where there's no dirt, just sand.
In fact, we bought a house fairly quickly and found that we had to put in a lawn. All we saw in the front and back yard was sand, so we said to be the builder, "What do we do, just bring in some top soil for the lawn?" He looked a bit mystified and replied, "well,if you want the ground higher, just bring in more sand". There's no dirt in Perth, not that I could see anyway, just lots and lots of sand.
Next time... PR launches its new format with a red bullet.
Related Posts
by Frank Avis | December 24, 2008
I finally got back to Sydney, twenty years after heading into country radio, to join 2GB as News chief.
---
---