Farewell to '18
by Frank Avis | January 9, 2019 | 2010s
As I go to print, we've just lost one of the superstars of the entertainment world, Jimmy Hannan.
As I go to print, we've just lost one of the superstars of the entertainment world, Jimmy Hannan. He was a singer and TV host from the original days of television, passing on at the age of 84. He won the Gold Logie in 1965 as Most Popular TV Personality.
But don't forget he also boasted a number-one radio show on the mighty 3UZ and, if my memory is working properly, also had a stint doing the morning show at 2GB in '79.
Survey 8 in the Big Smoke didn't offer any dramatic re-directing of audiences with Jones and Hadley dominating the AM band to give GB 13.9 overall. Kyle and Jackie O took FM Breakfast from Jonesy and Amanda while SMOOTH continued an excellent year at just over 9%.
Looking at our two troubled veterans – 2CH lost around a third of its audience, down to 3 points, but UE/SPORTS nearly doubled its tally to 1.1.
Make of that what you will.
A bit of ancient, and probably unimportant history, dating back a few years – possibly the late 80's. I sent a proposal to a former colleague of mine who was working as a Programming Advisor at a major TV network. My plan was to do a semi-documentary series, based on famous/infamous Australian crimes. We'd have a team of actors playing detectives re-examining cases from the past. The hook was that we'd have reality input, utilising genuine detectives and witnesses from the original cases. My proposal suggested a 6 part series including famous incidents like the Beaumonts and the Eloise Worledge mystery but the key case, and my suggestion for the pilot, was the most famous of them all – the disappearance of baby Azaria.
My mate loved the concept but wanted to present it as a package which would include the original script for the pilot and plot-details for at least two other episodes and a 15 minute demo of how it would look on the TV screen. He didn't think the network would be interested in putting any seeding capital into the project which left it up to me to find enough money for the demo. So it lapsed. But imagine how I feel these days when I see all of these semi-documentary style crime dramas featuring actors and real life contributors from the original case. I love watching these shows from North America and Britain (I'm addicted to Lt. Joe Kenda as the "Homicide Hunter") but it gets me a bit revved up knowing I could have maybe been there at the coal face, back in those early days. And it's a lesson: if you think it's a good idea, if you think you have a ratings goer, get in there and have a shot. Should have done it myself. I wrote a really good pilot for "Baby Azaria". Oh well.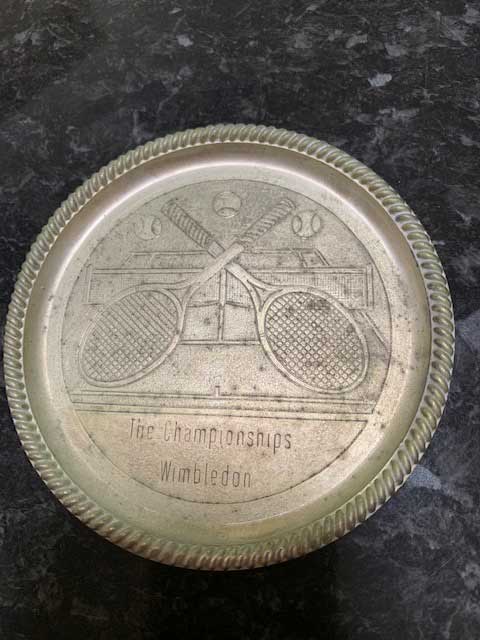 The attached photo is a memento of Wimbledon back in the 80's courtesy international tennis reporter/media manager Craig Gabriel. His story is a classic about someone who has the desire to do something and doesn't settle for anything less. Over 30 years ago Craig came to 2DAY FM with a far-out scheme where he would travel the world for us – covering the tennis Grand Slams and the Golfing majors – providing reports and actuality. Now I was really strong on tennis at the time, believing it would become a massive audience winner through the 80's and 90's and Greg Norman was starting to make waves internationally so the combination was too good to resist. So Craig took off. I don't know how he managed it financially but he kept the enterprise afloat and eventually set up an excellent operation where he provided media expertise for the tournaments and picked up a bit of pocket money from 2DAY FM and our affiliates around the country. He even had tennis greats doing promos pointing to 2DAY FM's coverage. I need to meet up with Craig to find out just how he managed to survive on what has to have been one of the toughest circuits in world sport.
Two things I warned us to keep an eye on through the year... Brexit, which is even a bigger disaster than I thought originally and still hasn't been settled as we head into the final days of 2018. Prime Minister May, I suspect, is working up a head of steam trying to extricate Britain from the EU as softly as possibly while hanging on to their close ties in Trade, Finance and Defence. I know it looks bad at the moment as we enter 2019 but I have a suspicion that it wouldn't take a lot of manoeuvring from Europe to sneak the vote in Parliament over the line.
And a new housing crisis which could be triggered by the massive mortgage debt across the country especially in Sydney. They tell me there are 800,000 families on the brink at the moment with the value of the house having fallen below the amount borrowed. The key to 2019 is in the hands of the banks. Have they learned the lesson from the GFC? Or will they start demanding these customers lift their monthly payments and if they can't will they commit the ultimate stupidity and start re-possessing the properties, thus triggering a second Financial Crisis? Hold your fire Big Banks... Don't pull the rug out from the economy.
And so our year ends with the continuing mystery of the disappearing Malaysian Airliner. Remember, this is the civilisation with the technology to put a man on the moon. Can someone explain how we can lose a large, international airliner – full of people – in the middle of our planet?
And when you've done that can you tell me how a lone boofhead – armed with a drone – can bring an entire British airport to a standstill for 24 hours? They had police out there at Gatwick, armed soldiers and members of the crack Anti-Terrorist Squad and nobody, like nobody, could stop this drone flying around the airport. This is a hell of a worry.
But let us end our year on a more upbeat note by confirming that it's been a couple of months now and we haven't had to replace a Prime Minister. That's got to be positive!
Related Posts
by Frank Avis | January 6, 2020
Well, she's all over for another year and the Alan and Ray Show ended the ratings, owning Sydney's overalls...
---
by Frank Avis | December 2, 2019
Are we watching the death of a Sydney radio giant with the announcement that the experiment with Macquarie Sports on the old 2UE is over?
---
by Frank Avis | October 23, 2019
Radio, Alan Jones, Graeme Turpie and Ian Nicholls, Brexit, Richmond AFL and TV.