Heading into 2019... And Don't Spare the Horses
by Frank Avis | March 22, 2019 | 2010s
Recently involved in a Skype interview with a couple of radio men from the old days – Ray Kelly and Doc Livingstone – for a 3MP reunion event.
Recently involved in a Skype interview with a couple of radio men from the old days – Ray Kelly and Doc Livingstone – for a 3MP reunion event. Just a delight to re-live those wonderful moments in the 70s when we put a new radio station to air. I think the first thing I said to Ray and Doc was that it was such a pleasure to talk to a couple of veterans who were still alive. We went way back to the 60s amid much laughing remembering so many names from that exciting period in the trade – Dick Heming, Ric Melbourne, Wally Chamberlain (perhaps the most celebrated Chief Engineer in the history of Radio), Ken Hibbins, Alf Minster, Barry Seeber, Mike Walsh, Bert Newton, Clive Waters, Murray Korff, on and on it went – triggering much humour, especially when we got on to the subject of Wally Chamberlain at 3XY. Back in the days of the old Mike Walsh Show Barry, Mike and your reporter used to "accidentally" leave the studio door open just as Wally was arriving for the day. Some of the actuality was priceless and usually got us into serious trouble with Manager Bob Baeck and his assistant Ray Woods. Sadly I couldn't get down to Melbourne for the 3MP day but a couple of "originals" in Geoff Brown and Dean Matters drove to Sydney from North and South for a mini-reunion at the Macquarie Centre recently. And again there was a hell of a lot of laughing, bit of sadness here and there, but mainly lots of hilarity. The trio is shown in the attached photo. Your reporter wishes he had some of the "get up and go" shown by his two colleagues.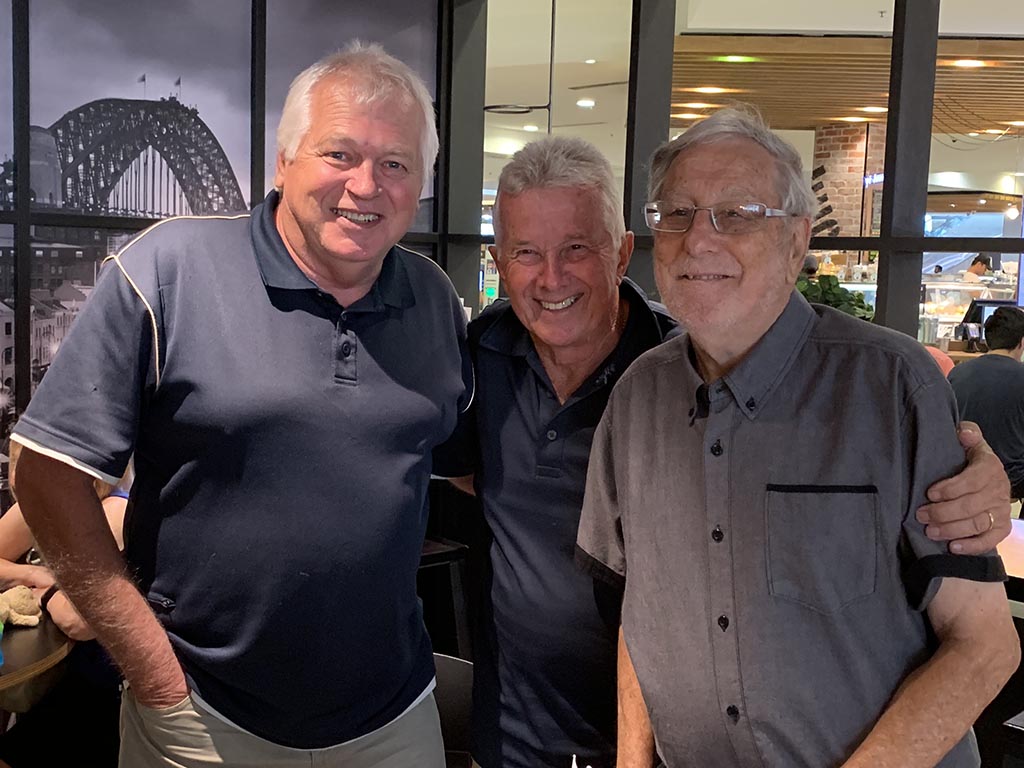 The new radio year has kicked off in "the big smoke" with a heavily-circulated rumour that Alan Jones will part company with 2GB. An amazing prospect given that Jones is still the "King of Breakfast" and 2GB retains its overall leadership in the opening survey of 2019. One of the stories goes that Jones will move from GB across to 2SM – which may be one of the most bizarre rumours I've ever encountered in our industry. Incidentally, the latest survey shows SMOOTH continuing its strong run in the FM band ahead of WS and KIIS. 2CH is a bit of a bolter in Survey 1, lifting 1.5 up to 4.5% but the old 2UE, now Sports, has crashed to .6, close to the edge.
I don't know whether you caught up with some of the most bizarre TV programming ever produced last year when SBS stuck a camera on the Ghan train and let it run for the entire trip. No narrator... just the occasional line or two up on the screen telling you where you were (if you were lucky). Thousands of people fell out of their lounge room chairs, laughing hysterically. There were lots of letters to the Editor wondering had the producers been checked mentally before they put the documentary to air. Anyway for some reason, SBS took all of this comment as a good thing and apparently did an identical production on the Indian Pacific. I can't say I watched it... I mean who would?.. but I'm told it actually went to air. Recently I recorded another documentary, this time promising us a voyage along the Kimberley coast, Broome to Darwin. God help me, I think it's the same people. They've stuck a camera on a ship and just let it run. No voice over, just the odd typed message telling us what we're passing off the coast. Not that I saw anything. Just water... Unrelenting water. About 30 minutes in – just before I gave up and admitted defeat – I had this "Eureka moment", when I realised I was watching SBS's future. This was the ultimate programming for SBS, if only they'd thought of it in 1977. Can you imagine them doing a deal with NASA at the launch of Voyager 1? Just stick a camera on the nose and run it 24/7 for 41 years and 18 billion kilometres? Millions of SBS viewers would settle into their lounge chairs, armed with their pre-packed TV dinners, and sit there entranced through hours, weeks, months, years and decades watching the blackness. Just occasionally you'd see the odd bright light ahead and maybe in 10-12 years time Voyager would fly by this space rock, say Neptune or Saturn, bringing the audience this one piece of space drama to keep them on edge for the next 10 years, or death, whichever came first. (Imagine the ratings when Voyager 1 flies beyond our solar system and arrives at the neighbouring star, AC+793885? Mind you, that doesn't happen for another 40,000 years.)
But for most of us, we'd just sit there entranced by the blackness. Fixated on the purity of blackness. No news updates, no weather, no AFL, no Brexit. Forget the markets... Just this camera sending these hypnotic pictures back to Earth of unending blackness.
The political class has just made a stunning discovery... That we're stuck in a monumental drought. The rivers – even the mighty Darling – are reduced to a trickle, threatening the townships along the way and the associated industries that keep them going. There's not enough water getting into these inland waterways and too much demand, especially from the cotton farms in NSW. So, here we go again, for about the 20th time in the last two decades – please somebody listen to the John Bradfield plan proposed nearly 100 years ago. Here's what I'm saying: cancel all overseas aid for the next two budgets and put the lot, guessing around $8 billion, into one of the biggest enterprises in our history... Building a dam and pipeline network to harvest all of the tropical rain in our far north and move it through central Queensland and Northern NSW where it will support all of the farming/industrial projects and the population along the way. Every year we get massive rain in the area and all we have to do it is trap it and release it into our rivers, as required. Do this and the mighty Darling River will flow forever. At the moment NSW is launching one of the biggest infrastructure programmes I've ever seen in this country, including the Federal State project to build Badgerys Creek Airport. All we have to do is build on this concept. What do they say in the BHP ad? THINK BIG.
We have federal and NSW elections coming up over the next few months and I'm thinking both will be extremely close-fought affairs. Premier Gladys has massive underbubbling goodwill and has undertaken a series of monumental infrastructure projects which will have an astonishing impact on Sydney over the next 100 years. But there's a lot of discontent and you never know what voters will do when they get that pencil in their hands. I'm writing this two days out from the vote and predicting a narrow win to Gladys. Federally Prime Minister ScoMo is very sellable out there in the marketplace. Certainly there's little voter love for Bill Shorten. Nonetheless, it's a cliff hanger ladies and gentlemen and Yours Truly will be fixated on the TV in March and May watching the votes fall where they may. I was surprised to hear Julie Bishop say that she should have been elected PM after Malcolm Trumble bit the dust. In her parting comments she said she had the vote won but was assassinated by the "numbers men" at the last minute. Julie was a really, REALLY good Foreign Minister but she would never have led the LNP to an election win. And you want to know why? Because WOMEN WOULDN'T VOTE FOR HER. This is one of the delights of market research. You research women using a simple YES/NO questionnaire and they'll give Julie 80% support. But get down at street level, get down into political workshops, into focus groups and the women desert Julie in droves. Because they don't LIKE her. They don't TRUST her. She walks across their TV screens looking like a million dollars... But when you get down to the nitty-gritty, Australian female voters don't go for Julie Bishop because – one of the classical lines in the focus groups – "she's not one of us".
I knew that there'd been a massive shift in our social tectonic plates when I spoke to a golfing mate about a dozen years back. He'd just taken early retirement and told me he'd embarked on a new career... Walking dogs. I'm not talking here about helping out the old lady down the road by taking her poodle for an occasional walk... I'm talking about making a very healthy living by taken people's dogs out for their daily walk. And then I realised it wasn't just walking dogs. There were specialists popping up everywhere: they'd wash your dog, feed your dog, look after doggy if you went on holidays and just sit with your dog, making sure it was ok if you were delayed getting home.
And there it is – standing right in front of me – this giant sign which reads, "IF YOU CAN'T WALK YOUR DOG AND YOU CAN'T WASH YOUR DOG... WHAT IN GOD'S NAME HAVE YOU GOT A DOG FOR?"
And this goes a lot further than dogs. Women now have babies and hand them immediately on to a nanny. The little kids head off to pre-school as quickly as possible and wait outside the school gates in the afternoon to be collected by the baby sitter who prepares the evening meal. My favourite story concerns a couple of high flyers from New York who take their annual holiday in Paris, both flying First Class, with the Nanny and THEIR CHILD travelling Economy. Boy is that symbolic!
And look there's that big sign again. This time it reads, "IF YOU DON'T WANT TO LOOK AFTER THEM... WHY ARE YOU HAVING THEM?"
Mothers don't clean the house anymore. They have a cleaner. They don't cook anymore... It arrives by Uber. I don't think anybody irons clothes anymore... If it absolutely has to be ironed you get someone in to do the ironing. For everything families used to do including even mowing the front lawn, there is somebody else just waiting to it – at the right price of course.
This is a new social landscape... We're definitely no longer in Kansas.
Related Posts
by Frank Avis | January 6, 2020
Well, she's all over for another year and the Alan and Ray Show ended the ratings, owning Sydney's overalls...
---
by Frank Avis | December 2, 2019
Are we watching the death of a Sydney radio giant with the announcement that the experiment with Macquarie Sports on the old 2UE is over?
---
by Frank Avis | October 23, 2019
Radio, Alan Jones, Graeme Turpie and Ian Nicholls, Brexit, Richmond AFL and TV.