Spring of 2018
by Frank Avis | November 27, 2018 | 2010s
I've gone to radio heaven this month bathing myself in a book about the classical period downunder through the 30s, 40s and 50s.
I've gone to radio heaven this month bathing myself in a book about the classical period downunder through the 30s, 40s and 50s. Son John and Daughter–in-Law Jo were thumbing their way through a second hand bookstore in the Blue Mountains when they happened upon Patti Crocker's "Radio Days", published in 1989. Patti was an actress smack in the middle of the Golden Age as we transitioned out of being a re-broadcast service for America and Britain and started switching to our home grown product. This is pure Australiana. The pages contain one iconic name after another. Patti worked with them all. Lyndall Barbour, Dinah Shearing, Lou Vernon, George Edwards, Ron Randell, Walter Pym, Joy Nichols... We've got to remember all of these people... they're radio royalty. Patti herself went from the ABC's "The Youth Show" to play Queenie Ashton's daughter Mandy in the most revered show of them all "Blue Hills".
My favourite story is from the 1930s when 2KY found out at a moment's notice that its supply of overseas transcriptions was about to come to a sudden stop. What were they going to do? They had a major sponsor waiting to spend money but no more serials to put to air. As Patti recounts it, Advertising Manager Harry Hungerford took his problem to script writer Hal Saunders who said, "No worries... I'll write one myself." Trouble is the sponsor was coming to 2KY on Monday morning to hear what his new serial would sound like. So Hal spent the weekend writing what was to become one of the first locally scripted radio serials, "The Black Spider", set on the streets of Sydney. "The Black Spider"... It is SO SYDNEY RADIO of the 30s and 40s! Is there an old copy somewhere? Anywhere?
The other thing I've just learned is that I was wrong in attributing the famous narration from "When a Girl Marries" to an early Brian Henderson (you can understand my error because that famous opening sounds so much like the beloved Hendo). But Patti maintains the voice-over men used on "When a Girl" were definitely Leonard Teale and Ron Roberts.
Oh, and Darleen happened to find my old News Editor sign which I used to bring out occasionally in the 2DAY-FM newsroom, to much merriment, and so here I am in this picture in front of the sign and wearing my MIX 106.5 cap from the day 2UW vanished, to be replaced by its FM successor. Er... make that successors... plural... MIX 106.5 and KIIS-FM.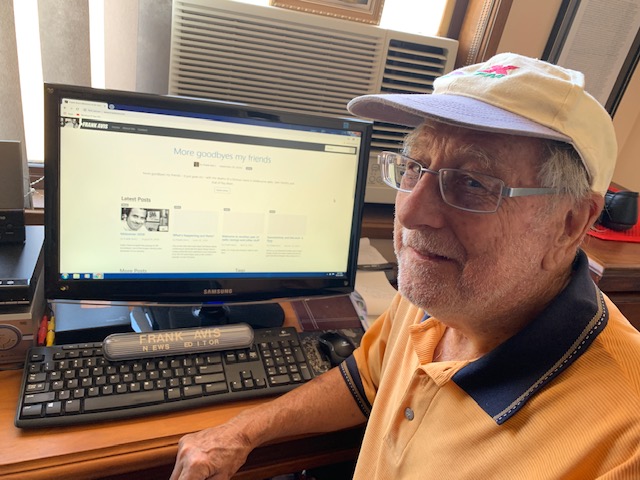 The local radio scene features Kyle and Jackie O back up on top of the FM band in the breakfast slot with WSFM suffering a surprise 1.8% decline overall to drop behind KIIS and SMOOTH FM. 2GB of course is like the mighty Winx... Just galloping away with the overall category, dominating Breakfast and Mornings. 2DAY FM is up slightly, at 5.5, while we continue to monitor our "watch list" with the old UE, now on sports format, at .6 and Old Faithful, 2CH, hanging around the 4.1 level.
The King of GB, Alan Jones – the most influential broadcaster of the generation – threw a scare into the market with a new back ailment sending him to hospital, but the latest news suggests this will not be a long term issue.
I guess the biggest news of the day is the retirement of Bob Rogers, at the age of 91, after 74 years in the broadcasting trade. He transcended formats, pioneering Top 40 at UE and SM and going on to the other end of the spectrum, Beautiful Music, at 2CH from the mid 90s. The plan, as I remember it, was for Bob to keep going till his 100th birthday but a stroke recently put an end to that dream. I remember Bob Rogers mainly for his incredibly seamless Morning Show on 2UE in the 80s.
I always marvelled at how his programme ran so effortlessly and learned in later years from the boys in the UE newsroom that one of his secrets was to pre-record a lot of his interview material, allowing editing time to ensure top-end quality control.
I think we have to agree Bob Rogers is one of the most illustrious radio contributors of the post Golden Age, from the mid-50s through to 2018.
And my latest "favourite TV commercial" of the moment is the film noir classic from Budget Direct, where two detectives, a male lead investigator and his female 2IC, are on the scene of a crime, going through the room with their forensic team. As they examine the room the woman detective is buzzed by what looks alarmingly like a pterodactyl... "What the..?" she exclaims as this thing flies over her head. Meantime the forensic teams are battling large green balls which keep spitting out streams of green slime, which can't possibly be good. But none of this fazes our good old lead detective who keeps going through all the documents in the place trying to figure out why the resident kept paying so much for his insurance when he could have got it a lot cheaper with Budget Direct. I know I keep going crook about the number of commercials on our TV screens these days but really, sometimes the commercials are better than the shows.
We gathered for another reunion at Pymble recently but sadly lost quite a few of our regulars at the last moment when other stuff came up. Still I managed to pass on a couple of historical albums to our resident historian, Andrew.
1: The Past is Prologue, a collection of famous historical moments captured on radio along with extracts from all of the classical shows of Australia's Golden Era. You can listen to Jack Davey, Bob Dyer, Mo McCackie, Blue Hills, Dad and Dave etc etc. It's magic.
2: Was the album given by Rod Muir to all staff who were at MMM-FM on day one when it went to air in 1980. What makes it so enticing is the signatures of the original staff on the cover. They're all there... including Rod, Cherie Romaro, Tony Hartney, Bob Hughes, Frank Mancini and Yours Truly along with so many others.
And am I the only commentator to have noticed that in July this year, thousands of rescuers, from all corners of the globe, gathered in Thailand to save the lives of 12 young soccer players, and their coach, trapped deep inside a flooded cave. The rescue watched by millions around the world remains one of the most heart warming stories of the decade. But, in an overwhelmingly sad commentary on life on our planet, at the same time an Islamic suicide bomber chose to explode a device in Jalalabad, Afghanistan – killing himself and 20 innocent victims. In these events we see the massive gulf separating the two dominant cultures of the 21st Century... One treasures life, the other seems to treasure death.
Related Posts
by Frank Avis | January 6, 2020
Well, she's all over for another year and the Alan and Ray Show ended the ratings, owning Sydney's overalls...
---
by Frank Avis | December 2, 2019
Are we watching the death of a Sydney radio giant with the announcement that the experiment with Macquarie Sports on the old 2UE is over?
---
by Frank Avis | October 23, 2019
Radio, Alan Jones, Graeme Turpie and Ian Nicholls, Brexit, Richmond AFL and TV.